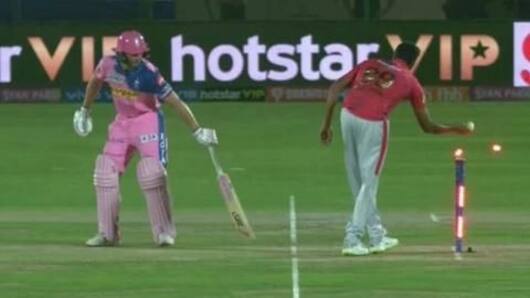 Should the Mankading law undergo further evaluation?
The IPL 2019 has seen a couple of controversies already.
The biggest controversy arose when Kings XI Punjab (KXIP) skipper Ravichandran Ashwin Mankaded Rajasthan Royals (RR) opener Jos Buttler.
While there was widespread debate as to whether the law was in the spirit of the game, Ashwin defended his decision.
Consequently, he has also called for this law to undergo review, as we analyze.
Ashwin Mankads Buttler as KXIP win the tie
Ashwin was on his run-up to bowl to Sanju Samson, when Buttler left his crease at the non-striker's end, even before Ashwin had released the delivery.
Ashwin didn't complete his delivery and noted action of Buttler to clip the bails.
The umpire referred it, where the third umpire, after reviewing it, declared Buttler out.
This was the turning moment as KXIP won the match.
Buttler and rest of the world furious with the law
The aftermath of the incident saw many legends, including Australian great Shane Warne, criticizing this act and terming his actions as against the spirit.
Buttler himself was unhappy with the decision and termed the law 'wishy-washy', while he continues to believe that he shouldn't have been declared out.
Nonetheless, a few, including Ashwin himself, defended the action, since it was well within the rulebook.
Love Sports news?
Stay updated with the latest happenings.
Yes, notify me
"There is nothing to defend"
Ashwin says, "It happened instinctively, it was not a plan. I saw that he'd done it (backing up too far) four or five times, and it's there in the rules that if the batsman goes out of his crease, you can run him out."
Unsportsmanlike laws should be removed
Ashwin continued to defend himself by saying that his conscience was clear regarding the law.
He said that he just took advantage of the law, since it was within the rulebook.
He also felt that if the law does not reflect good sportsmanship, the law should instead be scrapped.
If the law stays, the players should abide by and respect it under all circumstances.
Ashwin's take on laws that could be against SOTG
While Mankading is considered against the game's spirit, Ashwin feels that there are other laws that too should be counted the same.
Ashwin wonders, "Why isn't a bowler allowed to bowl a no-ball as a repeat offender?"
Ashwin also believes that batting actions like switch hit and coming down the track also count as against the spirit, since it harms the bowler's psyche.
Ashwin not disturbed by the controversy
Ashwin further added, "Like I said, my conscience is very clear. So I decided that whether I get negative or positive opinions on this, I won't let it affect me. Because it is their opinion, it doesn't reflect my character or my game."
Ashwin right on calling review against unsportsmanlike laws
While the world continues to debate on the Mankading law, Ashwin is right on calling for a review on laws which reflect unsportsmanlike character.
The author supports his view on other laws that could possibly be against the spirit.
The author also personally feels that hitting six sixes to a bowler could also reflect bad sportsmanship.
Therefore, a review of such laws is mandatory.
Where is KXIP currently ranked?
Asked 2019-04-05 17:37:36 by Navya Nair
Answered by NewsBytes
KXIP are currently in the second spot in IPL 2019.
Who is Rajasthan's skipper this season?
Asked 2019-04-05 17:37:36 by Aaryan Patel
Answered by NewsBytes
Rajasthan Royals are being led by Ajinkya Rahane in IPL 2019.
Where are RR placed in IPL 2019?
Asked 2019-04-05 17:37:36 by Shreyas Malik
Answered by NewsBytes
RR are currently in the seventh spot in IPL 2019.
Have KXIP ever won the IPL?
Asked 2019-04-05 17:37:36 by Aditya Kadam
Answered by NewsBytes
No, KXIP are yet to win the IPL.