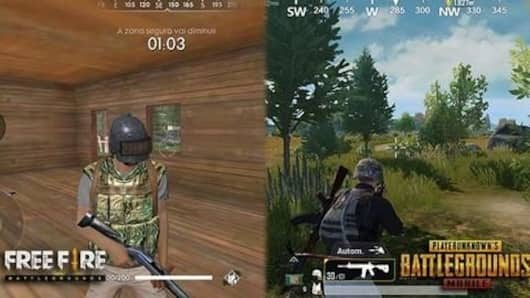 #GamingBytes: Free Fire or PUBG Mobile; which one is better?
There is no denying the fact that PUBG Mobile is one of the most popular games ever made.
In just one year, it has garnered a cult following.
Garena Free Fire, on the other hand, is a Battle Royale that introduced a lot of Indian gamers to the genre, and subsequently to PUBG.
We compare the two to help you choose the better game.
Comparing the gameplay: Garena Free Fire vs PUBG Mobile
Both games follow the same principles: a group jumps from an airplane into a battleground.
Here, they have to search for weapons and kill each other. The last survivor wins the game.
Each game has a distinct visual style and adds its own flair to the gameplay. The major difference is that PUBG feels a lot more realistic and life-like.
Free Fire vs PUBG Mobile: Which game has better weapons?
PUBG Mobile has a better collection of weapons.
It has more than 35 weapons across categories like ARs, SMGs, Snipers, Pistols, Shotguns, Explosives, and more.
Free Fire has similar weapons but they are less in number.
When you shoot enemies in Free Fire, you are often reminded of Zombie-shooters. Kills in PUBG Mobile are much more satisfying.
Most guns in Free Fire seem alike.
Love Sports news?
Stay updated with the latest happenings.
Yes, notify Me
Garena Free Fire vs PUBG Mobile: Vehicles and World
PUBG has a larger world and more players than Free Fire.
It also requires more time and patience to win. It also has a substantial collection of vehicles, unlike Free Fire.
But to give credit where it's due, Free Fire has smoother gameplay and actually feels like a game.
It also has great skins and cosmetic items and more than 50 million players.
Basic differences between the two games
In Free Fire, you can customize your character with cosmetics as well as abilities like faster health generation, quicker reload time, etc.
Each match has 50 players and the game is only 300MB in size.
PUBG is war-like, has better anti-cheat systems and a variety of maps including snow, jungle, desert, and soon, the Moon!
But both of these games follow a safe-zone system.
Garena Free Fire vs PUBG Mobile: Which game to play?
If you want to play a quicker game with non-stop action, characters with personalities, no doors (yup!), and a video-game-like vibe, Free Fire is ideal for you.
If you are more of a realistic combatant and want a more life-like experience, go for PUBG Mobile.
It is all about personal preference, whether you want to have a 'Chicken Dinner' or do a 'Booyah!'
Which gun is best for 5.56 mm ammo
Asked 2019-04-10 20:31:20 by Rushi Sonagra
Answered by NewsBytes
It depends on your playing style. If you like stability, get the M416. If you want a fast firing rate, SCAR-L (or QBZ) is your go-to gun. If you are a sniper, use the Mini14 and if you want to die fast, pick up the M16A4!
Which gun is the best- M416, M249, or GROZA?
Asked 2019-04-10 14:21:30 by Akshat Jain
Answered by NewsBytes
Out of these, M416 is the easiest to find. It can also be equipped with a stock. M249 has a long reload time but the huge capacity more than makes up for it. It has a stand, so you should use it when going prone. The GROZA is pure firepower. It has some recoil but it can do some serious damage. All guns have their own features, but since it is easily available, M416 is the best.
Will pubg be banned in the future?
Asked 2019-04-10 13:14:30 by Vijay Vamja
Answered by NewsBytes
There is no concrete answer to this but we sure hope that it isn't banned. In case it does get banned, you can always play Free Fire or Fortnite or any other Battle Royale title.
How to get a 15x scope in pubg mobile?
Asked 2019-04-10 06:12:19 by Bhavesh Patil
Answered by NewsBytes
PUBG Mobile does not have a 15x scope. It is highly unlikely that we will receive this attachment in the near future.
When did Free Fire release?
Asked 2019-04-09 16:43:16 by Aaradhya Lobo
Answered by NewsBytes
Free Fire was officially released for Android and iOS on December 4, 2017.
Which is the best gun in PUBG for sniping?
Asked 2019-04-09 16:43:16 by Diya Pawar
Answered by NewsBytes
AWM is fantastic, but Kar98k is easier to find. Both will do the job just fine!
Best AR in Free Fire?
Asked 2019-04-09 16:43:16 by Harini Singhal
Answered by NewsBytes
FAMAS can do good damage. AN94 is also a great gun.
How many players does Free Fire have?
Asked 2019-04-09 16:43:16 by Ridhi Das
Answered by NewsBytes
As of now, it has garnered more than 50 million players.