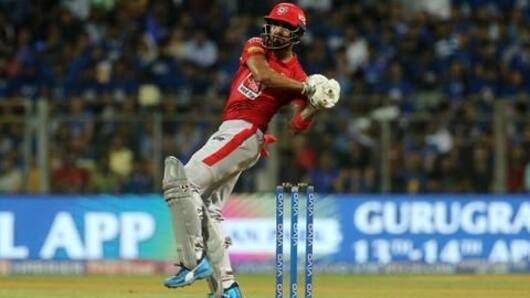 Has KL Rahul sealed his spot as India's number four?
While fans, across the world, are enjoying IPL 2019, Indian cricketers are out to prove their worth, especially with the World Cup ahead.
As India's number four batting position is still up for grab, KL Rahul is being considered as one of the contenders for it.
Moreover, his century last night proved that he could be the one.
Here we analyze Rahul's chances.
Rahul becomes fourth centurion of IPL 12
In what was a thrilling tie last night, Kings XI Punjab opener Rahul stole the show when he became the fourth centurion in the tournament this year.
He also became the second Indian to score a ton this season, after Sanju Samson of Rajasthan Royals.
Rahul scored a 64-ball 100*, including six fours and sixes, at a strike rate of 156.25.
Love Sports news?
Stay updated with the latest happenings.
Yes, notify Me
Rahul's dream run in IPL continues
Rahul has always been a prolific T20 batsman. Further, since a couple of years, he has been enjoying a dream run in the IPL.
He is the second highest run-scorer this term, scoring 317 runs from seven matches at an average of 79.25 and a strike-rate of 131.53.
He has remained not out thrice, while he also has a ton and three half-centuries.
Rahul has had a fascinating T20 average of late
Considering Rahul's T20 performance, he has scored 2,900 runs from 101 matches at an average of 40.34. He has a strike-rate of 138.39, including 21 half-centuries and three tons.
If we analyze his performance in last 10 T20 matches, he has scored over 400 runs at an average of 61.28, including a century and four half-centuries.
Therefore, the records prove his worth.
Is T20 performance enough for ODIs?
Although he has been in a great form in T20s, we must not forget that the World Cup would be the ODI format, which is definitely a different ball game.
Further, the conditions would be vastly different in England, compared to that in India.
Nonetheless, as he continues to prove himself in the shortest format, his performance would not get unnoticed by the selectors.
Rahul's form and format could give selectors a headache
As Rahul continues his splendid run in the IPL, the selectors would certainly take his case into consideration.
While his ODI form has been questionable, his T20 records are remarkable.
The author feels that both his form, the format along with English conditions, are likely to give selectors a headache.
Even if he is selected for the World Cup, he is a doubtful starter.
When does the World Cup get underway?
Asked 2019-04-11 12:33:05 by Abhinav Banerjee
Answered by NewsBytes
The World Cup 2019 gets underway from May 31.
Who do India play first?
Asked 2019-04-11 12:33:05 by Ajay Kapur
Answered by NewsBytes
India play South Africa in the opening game of World Cup 2019 on June 5.
Has KL Rahul played the World Cup before?
Asked 2019-04-11 12:33:05 by Ananya Tata
Answered by NewsBytes
No, this would be KL Rahul is yet to play the World Cup.
Has KL Rahul ever won the IPL?
Asked 2019-04-11 12:33:05 by Ananya Rangarajan
Answered by NewsBytes
No, Rahul is yet to win the IPL to date.