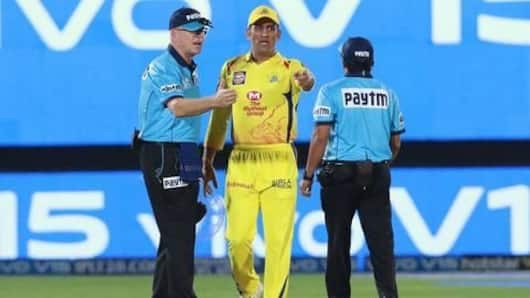 MS Dhoni fined for outburst against umpire: Details here
Chennai Super Kings skipper MS Dhoni was fined 50% of the match fee, following his outburst against the umpire during his side's victory against Rajasthan Royals at the Sawai Mansingh Stadium in Jaipur on Thursday.
Dhoni was found guilty of a Level 2 offense as per Article 2.20 of IPL Code of Conduct. He admitted and accepted the charge.
Here are all the details.
What is Article 2.20 of IPL's Code of Conduct?
The article states, "When assessing the seriousness of the offense, context of the particular situation, and whether it was deliberate, reckless, negligent, avoidable and/or accidental, shall be considered. Further, the person lodging the Report shall determine where on the range of severity the conduct lays."
Dhoni argues with umpires over no-ball confusion
The incident happened during the final over of the game when Rajasthan's Ben Stokes bowled a waist-height full-toss to Mitchell Santner.
As umpire Ulhas Gandhe signaled a no-ball, the decision was over-ruled by square-leg umpire Bruce Oxenford.
This led to Dhoni walking out to the middle from the dugout. He had a heated discussion with the umpires.
Notably, it was declared a legal delivery.
Love Sports news?
Stay updated with the latest happenings.
Yes, notify Me
Stephen Fleming: "Dhoni just wanted clarity"
CSK coach Stephen Fleming said, "He only just wanted clarity. The rights and wrongs will be discussed by everybody, including Mahi, I'm sure. But, I think, it'll be a discussion for the umpires afterwards and I am a watcher as you guys are, for now."
Was Dhoni right at having a go at the umpires?
While it may seem that the umpires were at fault in the first place, which they actually were, Dhoni had no right to come to the middle to have a discussion with the umpires. It all happened in the heat of the moment.
Dhoni and his men eye Kolkata Knight Riders ahead
Dhoni might have been relieved that despite the no-ball controversy his side managed to win off the last ball.
Nonetheless, as sweet as the win might sound, things would be a lot different come next game.
Former champions Kolkata Knight Riders would await them for a tough clash at the Eden Gardens Stadium in Kolkata on Sunday.
Can Dhoni and his men survive?
By how many wickets did CSK win last night?
Asked 2019-04-12 12:49:54 by Pari Trivedi
Answered by NewsBytes
CSK won by four wickets against RR in IPL 2019.
Are CSK currently ranked on top?
Asked 2019-04-12 12:49:54 by Vivaan Patel
Answered by NewsBytes
Yes, CSK are currently at the top of IPL 2019, with 12 points from seven games.
When did CSK first win the IPL?
Asked 2019-04-12 12:49:54 by Ankita Tambe
Answered by NewsBytes
CSK first won the IPL in 2010.
Where are Rajasthan currently placed?
Asked 2019-04-12 12:49:54 by Vivaan Rathore
Answered by NewsBytes
Rajasthan are currently placed in the seventh spot of IPL 2019.