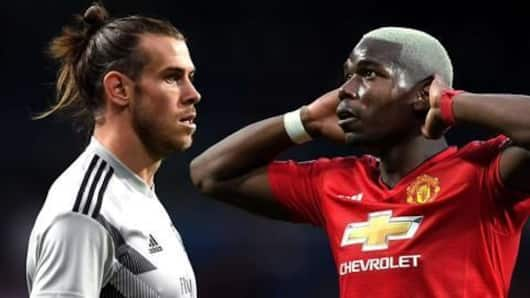 Will Real Madrid exchange Gareth Bale for Paul Pogba?
The rumors have been flying high for quite some time that Manchester United striker Paul Pogba could be Real Madrid bound.
They seem to have taken pace as it is now being reported that Los Blancos could go for a swap deal with United.
The player rumored to be swapped is none other than prolific striker Gareth Bale.
Here are other details.
Pogba's relationship with Ole Gunnar Solskjaer might have broken down
Pogba was putting up a good show under manager Ole Gunnar Solskjaer, as he got regular starts with the side.
However, his string of inconsistent outings has put his relationship with Solskjaer in jeopardy.
With rumors flying in that Pogba might be slowly falling out of Solskjaer's good books, he might be contemplating a move to Spanish giants Real Madrid.
Madrid ready to swap Bale for Pogba
Ever since Pogba expressed his desire to work with Zinedine Zidane, it is being said that Pogba is Madrid bound.
Also, United have had their eyes on Bale for a long time, and it is sure they will eye him in exchange.
Meanwhile, reports from Spain have said that Madrid are ready to let go of Bale in exchange for Pogba.
Love Sports news?
Stay updated with the latest happenings.
Yes, notify me
Bale unsettled at Real Madrid
While Bale is one of the top players of the game in the world, he has struggled to produce the goods for Madrid this term.
After the departure of Cristiano Ronaldo, Bale has struggled to make an impact.
Following Madrid's premature exit from the Champions League, it is being rumored that new manager Zinedine Zidane is willing to offload Bale.
Bale's resume is perfect for United
Although Bale might be unsettled in Madrid for the past two years, he has achieved enough at the club to make a name for himself.
With four UCL titles, along with a title each in La Liga, Copa del Rey and Spanish Super Cup, followed by three UEFA Super Cups and four FIFA Club World Cups, he has a dream resume.
Is Bale's price-tag of £113 mn too much for United?
Madrid have placed a humongous price tag of £113 mn on Bale.
This is being done to discourage United from pursuing him. As per the reports, Los Blancos want the swap deal rather than the cash from United.
Interestingly, United have been breaking the bank for good players, and it won't be a surprise if they do decide to acquire the Welshman.
When did Bale join Madrid?
Asked 2019-04-12 18:29:28 by Shreyas Sengupta
Answered by NewsBytes
Bale joined Madrid in 2013.
How many goals has he scored for Madrid?
Asked 2019-04-12 18:29:28 by Vishal Singh
Answered by NewsBytes
Bale has scored 78 goals for Madrid to date in 151 matches.
Where did Bale used to play prior to Madrid?
Asked 2019-04-12 18:29:28 by Abhinav Rao
Answered by NewsBytes
Prior to Madrid, Bale used to play for Tottenham Hotspur.
Where did Pogba used to play prior to United?
Asked 2019-04-12 18:29:28 by Dhruv Chauhan
Answered by NewsBytes
Prior to joining United, Pogba used to play for Juventus.