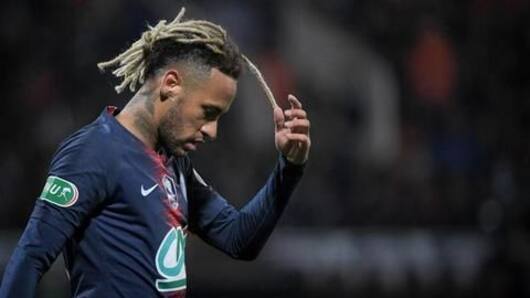 Neymar's father says he wants to stay at Paris Saint-Germain
Brazilian star footballer Neymar is considered one of the rare talents who can compete at the level of Lionel Messi and Cristiano Ronaldo.
While he made his record move to French club Paris Saint-Germain (PSG) a couple of years back, he hasn't made an impact in Paris.
There were rumors he might leave the club, but the same have been quashed by his father.
Neymar is not even halfway through at PSG
Neymar's father said, on the rumors, "We have a contract, we're not even halfway through that contract. These rumors of leaving will always exist, you can't have a player like Neymar without people or clubs dreaming of having him."
Is Neymar Real Madrid bound?
As the rumors continue to fly regarding Neymar's future at PSG, there is some indication that he could be on his way to Real Madrid following the end of the season.
Having arrived in 2017 from Barcelona, Neymar has to date played 53 games for the club an scoring 48 goals.
Unfortunately, regular injuries have not allowed him to settle at the club.
Love Sports news?
Stay updated with the latest happenings.
Yes, notify Me
Neymar is in no mood to leave PSG
Besides squashing the rumors of Neymar being Real Madrid bound, his father also assured fans that Neymar is in no mood to leave PSG for now.
He further said, "Fans can rest easy: Neymar today doesn't want to leave PSG, he wants to continue at PSG, get back on the pitch first up, to be able to help the club claim titles and win".
Neymar and PSG eye Ligue 1 and French Cup
Neymar is currently recovering from a knee injury, which he suffered on January 23.
He is training with his team-mates, while it is being said that he would be fit before April 27 for the French Cup final against Rennes.
While PSG have almost won the Ligue 1 title this season, he would most likely play a couple of league games as well.
Has Neymar ever won the Ballon D'Or?
Asked 2019-04-12 20:59:34 by Arnav Yadav
Answered by NewsBytes
No, Neymar to date has not won the Ballon D'Or.
Where did Neymar play before Barcelona?
Asked 2019-04-12 20:59:34 by Pari Gupta
Answered by NewsBytes
Neymar used to play for Santos before Barcelona.
How many World Cups has Neymar played in>
Asked 2019-04-12 20:59:34 by Angel Pillai
Answered by NewsBytes
Neymar has played in two World Cups to date.
Has Neymar won any international title with Brazil?
Asked 2019-04-12 20:59:34 by Shreya Nair
Answered by NewsBytes
Neymar has won 2013 Confederations Cup and 2016 Olympics gold with Brazil.