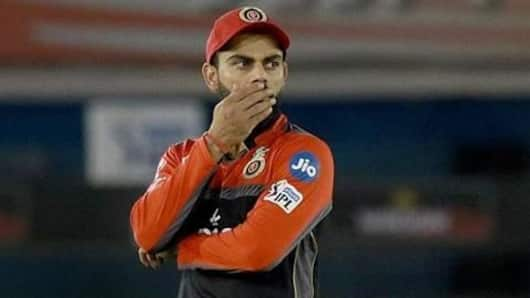 IPL 2019: Virat Kohli fined for slow over-rate, details here
Last night, Virat Kohli led Royal Challengers Bangalore registered their first win of the season, when they defeated Kings XI Punjab by eight wickets.
However, the victory was marred with bad news as skipper Kohli was fined Rs. 12 lakh for maintaining a slow over-rate in the game.
Since it was RCB's first offense of the season, they were fined the minimum.
Here's more.
Bangalore tame Punjab by eight wickets
After losing six consecutive games in 2019, Virat Kohli and his boys finally notched their first victory.
They tamed KXIP in match number 28 at the PCA Stadium in Mohali on Saturday. AB de Villiers and Virat Kohli were architects of this win.
However, RCB were found to be a couple short from the designated time slot, leading to the fine.
Fine rate to increase in case of further over-rate violations
The fine rate increases in case of multiple violations in a season. Here is how it is works:
First offense: Rs. 12 lakh ($17,300) for the captain.
Second offense: Rs. 24 lakh ($34,600) for the captain and 25% of match fee of others.
Third offense: Rs. 30 lakh ($43,370) for the captain, with a game ban, and 50% of match fee of others.
Love Sports news?
Stay updated with the latest happenings.
Yes, notify Me
Kohli ecstatic following season's opening win
Speaking on the win, Kohli said, "The win against Punjab is very special and especially because we know what has been going on in the last six games and we have been speaking about getting the team over the line and tonight was a chance."
Bangalore eye Mumbai rout in the clash of skippers
Having got their first victory, RCB would now aim to win all their matches ahead.
Their next mission would be to take Mumbai Indians at the Wankhede Stadium in Mumbai on Monday.
The clash would be equally important as two top Indian players and skippers, Kohli and Rohit Sharma, would clash in this mouth-watering tie.
An interesting and thrilling tie awaits us.
Where are RCB currently placed?
Asked 2019-04-14 12:20:36 by Vishal Jain
Answered by NewsBytes
RCB are currently placed at the bottom of the table.
Have RCB ever won the IPL?
Asked 2019-04-14 12:20:36 by Cheshta Tata
Answered by NewsBytes
No, RCB are yet to win the IPL to date.
Who was RCB's first-ever skipper?
Asked 2019-04-14 12:20:36 by Tejas Tata
Answered by NewsBytes
RCB were initially led by Rahul Dravid since 2008.
Has RCB ever played the finals?
Asked 2019-04-14 12:20:36 by Arnav Jain
Answered by NewsBytes
Yes, RCB have played the IPL final on three occasions.