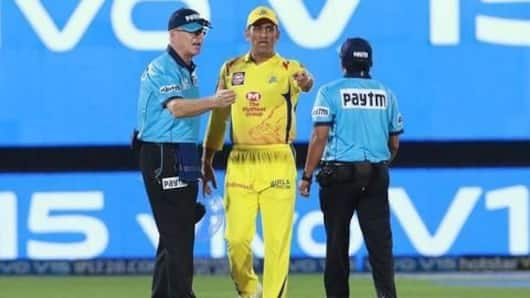 MS Dhoni should have been banned for outburst: Virender Sehwag
The world was shocked to see when Chennai Super Kings skipper MS Dhoni lost his cool and had an argument with the umpires over a no-ball controversy.
While Dhoni was let away with a fine, many former cricketers feel that it was a lenient punishment.
In the same light, Indian legend Virender Sehwag feels that Dhoni should have been banned for a few games.
Dhoni argues with umpires over no-ball confusion
The incident happened in the final over of the game against Rajasthan Royals, when Ben Stokes bowled a waist-height full-toss to Mitchell Santner.
As Ulhas Gandhe signaled a no-ball, the decision was over-ruled by square-leg umpire Bruce Oxenford.
This led to Dhoni walking out to the middle from the dugout. He had a heated discussion with the umpires.
It was declared a legal delivery.
Dhoni fined 50% of match fees
The controversy aside, CSK did manage to win off the last ball of the match.
However, Dhoni was not spared for his outburst, leading to a fine of 50% of his match fees by the match referee.
Dhoni admitted and accepted the charge. He was charged under Article 2.20 of IPL Code of Conduct for deliberate, reckless, negligent, avoidable or accidental conduct.
Love Sports news?
Stay updated with the latest happenings.
Yes, notify me
Sehwag criticizes Dhoni's actions, demands ban for a few games
Criticizing Dhoni's actions and punishment, Sehwag said, "I feel Dhoni was let off easy and should have been banned for at least 2-3 games. Because if he did this, tomorrow another captain can do the same. Then what is the value of an umpire."
Sehwag feels Dhoni should have spoken with the fourth umpire
Sehwag also feels that despite the intensity of the situation, Dhoni should have handled it smartly by speaking to the fourth umpire.
He feels that there was no need for him to walk out to the middle when there were already a couple of CSK batsmen arguing on the issue.
Sehwag felt that Dhoni's emotions for CSK got the better of him.
Dhoni and his men eye Kolkata Knight Riders ahead
Dhoni might have been relieved that despite the no-ball controversy his side managed to win as they stay atop.
Nonetheless, as sweet as the win might sound, things would be a lot different today.
Former champions Kolkata Knight Riders are hosting them for a tough clash at the Eden Gardens Stadium in Kolkata on Sunday.
Can Dhoni and his men survive?
How many IPL titles have CSK won?
Asked 2019-04-14 16:59:15 by Ananya Rangan
Answered by NewsBytes
CSK have won three IPL titles of late.
Has Dhoni led any other IPL side?
Asked 2019-04-14 16:59:15 by Arjun Singhal
Answered by NewsBytes
Yes, Dhoni has led Rising Pune Supergiants (RPS) in 2016.
Who else apart from Dhoni has led CSK?
Asked 2019-04-14 16:59:15 by Shaurya Jayaraman
Answered by NewsBytes
CSK have been led by Suresh Raina, apart from Dhoni, to date.
What time is KKR-CSK tie?
Asked 2019-04-14 16:59:15 by Aaradhya Lobo
Answered by NewsBytes
KKR-CSK tie of IPL 2019 would be played at 4PM.