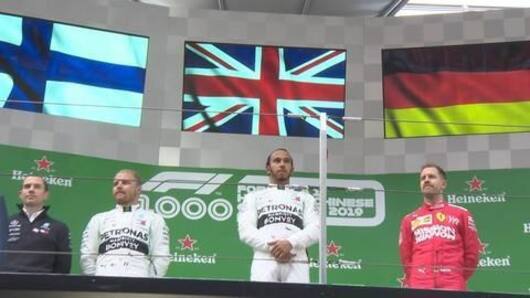 Chinese Grand Prix: Lewis Hamilton wins 1,000th F1 race
Mercedes continued with their dominance in the 2019 Formula One Championship after conquering China.
In F1's landmark 1,000th race, Lewis Hamilton emerged victorious to take the lead in the driver's standings.
Valtteri Bottas finished second to cap off a brilliant day for Mercedes.
Ferrari had another disappointing race with Sebastian Vettel finishing third and Charles Leclerc taking fifth.
Here's more.
Hamilton has a superb outing to savor
The day belonged to Hamilton.
Mercedes had that extra pace and Hamilton had a whopping gap of 6.5 seconds from Bottas.
To seal victory on a landmark day will be a very special moment for the Briton.
He now has 68 points after three races and is well ahead of Vettel, who lies on a disappointing fourth position (37).
Love Sports news?
Stay updated with the latest happenings.
Yes, notify me
'One-two is really special on the 1,000th GP'
"Valtteri has been quick all weekend and to have a one-two is really special on the 1,000th Grand Prix. The start was where I could make the difference and after that it is history," said an ecstatic Hamilton after his victory.
Ferrari's decision-making costs the side
Ferrari's decision hurt them on the day. The team ordered Charles Leclerc to let Vettel by in the opening laps.
The decision led to Leclerc losing fourth place and Red Bull's Max Verstappen capitalized.
The young driver questioned the decision over team radio, saying: "But I'm pulling away."
Ferrari could have stuck to the original positions and perhaps that could have been wiser.
Vettel didn't get the desired rhythm
"I felt I could go faster but then it was a bit difficult for me to find a rhythm. I had a couple of wobbles where I could not keep the advantage I was getting," said Vettel.
Who won the 2019 Chinese GP?
Asked 2019-04-14 18:13:52 by Aarav Chavan
Answered by NewsBytes
Lewis Hamilton won the 2019 Chinese GP.
How did Mercedes finish?
Asked 2019-04-14 18:13:52 by Chirag Das
Answered by NewsBytes
Mercedes ended one and two in China.
How did Ferrari fare?
Asked 2019-04-14 18:13:52 by Ayaan Das
Answered by NewsBytes
Sebastian Vettel finished third and Charles Leclerc ended fifth.
How did the race sum up for Verstappen?
Asked 2019-04-14 18:13:52 by Ayaan Pillai
Answered by NewsBytes
Verstappen finished fourth in between the two Ferraris.