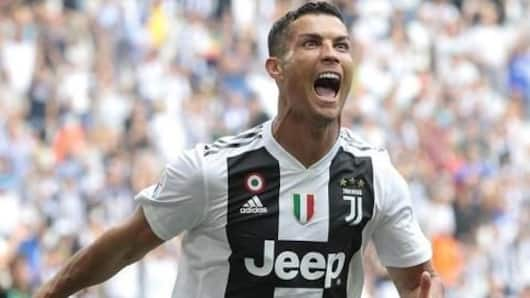 Cristiano Ronaldo confirms he is not leaving Juventus
Charismatic footballer Cristiano Ronaldo, on Saturday, confirmed that he would be staying with Juventus.
He made this comment after leading his club to their 35th Serie A title win.
While Juventus had missed out on sealing the title last week, they made sure that they do so this week, with a 2-1 win over Fiorentina.
This was also Ronaldo's 27th club silverware.
Here's more.
Massimiliano Allegri denies reports of Ronaldo leaving
Following the shock exit of Juventus from the UEFA Champions League 2018-19, there were reports that Ronaldo could consider leaving the club to eye European title.
However, right before the match against Fiorentina, Juventus coach Massimiliano Allegri put an end to those rumors.
He said that Ronaldo had no intentions of quitting the club after just playing for a season.
I am 1,000 percent sure of staying with Juventus: CR7
Ronaldo said, "I'm happy to have won the Italian title in my first season here. It has been a great season for this Juventus, we also won the Italian Supercup. We didn't do so well in the Champions League, but there is always next year."
Love Sports news?
Stay updated with the latest happenings.
Yes, notify me
Ronaldo honored to be playing for Juventus
Campioni d'Italia! Orgoglioso di contribuire a scrivere la storia di un club eccezionale, che mi ha fortemente voluto e per il quale sono onorato di giocare. Sono felice. Siamo un gruppo forte e straordinario! Grande Juve pic.twitter.com/0I7obeypz0

— Cristiano Ronaldo (@Cristiano) April 20, 2019
Giorgio Chiellini hails Ronaldo's success
CR7's Juventus team-mate Giorgio Chiellini, who registered his first Serie A win for the side as the captain, hailed Ronaldo's milestones.
"Cristiano arrived with great humility and helped us improve- all of us. He is totally dedicated to football. He is different to the others and to us he is a milestone for the future. I had no doubts he would stay," he quoted.
Ronaldo eyes more goals in Serie A remainder
While Juventus have no further commitments this season, they, along with Ronaldo, would look to script further wins in the remaining matches to stomp their authority.
As for Ronaldo, he would be aiming to score more goals before the season closes.
Notably, he has scored 19 goals in 26 matches. He also has eight assists under his belt this season.
Ronaldo first to win in England, Spain and Italy
Ronaldo became the first player to win the English Premier League, Spanish La Liga and Italian Serie A, after lifting the league title with Juventus.
How many EPL titles did Ronaldo win?
Asked 2019-04-22 00:08:06 by Navya Jindal
Answered by NewsBytes
Ronaldo won three EPL titles.
How many UCL has Ronaldo won>
Asked 2019-04-22 00:08:06 by Rishika Malhotra
Answered by NewsBytes
Ronaldo has won five UCL to date.
How many FIFA Ballon d'Or has Ronaldo won?
Asked 2019-04-22 00:08:06 by Surabhi Dasgupta
Answered by NewsBytes
Ronaldo has won five FIFA Ballon d'Or to date.
Has Ronaldo won any championship with Portugal?
Asked 2019-04-22 00:08:06 by Abhinav Powar
Answered by NewsBytes
Ronaldo won the Euro 2016 for Portugal.