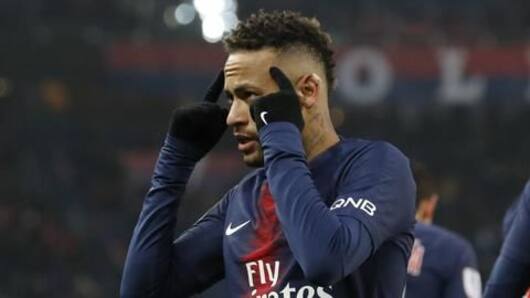 Manchester City eye to outbid Real Madrid for Neymar: Reports
Brazilian forward Neymar had made headlines when he completed a €222 mn transfer to Paris Saint-Germain from Barcelona.
While he is into his second season at PSG, there are reports that he could soon leave the Paris-based club.
Being an ex-Barcelona product, he is now being eyed by Real Madrid.
However, new reports state that Manchester City are looking to outbid Madrid for Neymar.
Neymar was part of football history's most expensive transfer
Neymar's transfer to PSG remains the most expensive in the history of Association Football.
PSG smashed the world record with a mammoth bid of €222 mn, while he was signed by the French club for a monstrous weekly wage of €865,000.
As per reports, Neymar remains one of the richest players. Further, he is only 27 and his golden years are ahead of him.
How much would City be willing to pay for Neymar?
Neymar is already being targeted by Los Blancos, who are reported to have been considering a bid of more than €115 million.
However, City are reported to have identified Neymar as one of their primary targets, and are willing to bid close to €173 million.
Further, there are some reports that a swap deal could take place, with City letting go of Sergio Aguero.
Love Sports news?
Stay updated with the latest happenings.
Yes, notify Me
Will Neymar consider moving to Madrid or City?
As we had discussed earlier, Neymar's father had confirmed that Neymar is in no mood to leave PSG for now.
Although a move away cannot be still ruled out, chances are it could go either way.
While Neymar's regular injuries have taken a toll on his PSG career, it is unlikely that he would survive in brutal English conditions, especially if he remains injury-prone.
Neymar and PSG eye French Cup success
Having already won Ligue 1, PSG would now be eyeing another title as they prepare to take on Rennes in the French Cup final on Sunday.
Neymar is certain to play the final as he would get a chance to lay his hands on the second silverware of the season.
Following the end of the 2018-19 season, Neymar would switch focus to Copa America.
When did Neymar join PSG?
Asked 2019-04-23 19:17:02 by Charvi Shah
Answered by NewsBytes
Neymar joined PSG in 2017.
Where did Neymar play before Barcelona?
Asked 2019-04-23 19:17:02 by Rishika Chavan
Answered by NewsBytes
Neymar used to play for Santos before Barcelona.
How many silverwares has Neymar won at PSG?
Asked 2019-04-23 19:17:02 by Vishal Sharma
Answered by NewsBytes
Neymar has to date won five silverwares at PSG.
Who are La Liga leaders this season?
Asked 2019-04-23 19:17:02 by Ridhi Khan
Answered by NewsBytes
As of now, Barcelona is all poised to win the La Liga this season.