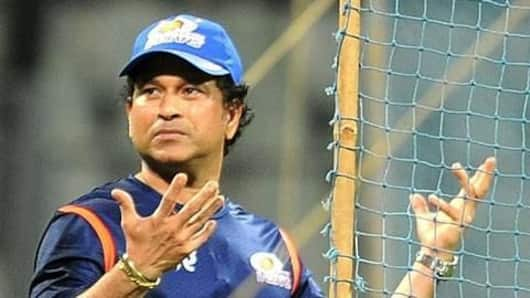 Sachin Tendulkar blames BCCI for conflict of interest situation
Sachin Tendulkar has rejected the BCCI's claim that his alleged conflict of interest falls under 'tractable category'.
Further, he has also blamed the Indian cricket's governing body for creating this situation.
The issue arose since Tendulkar is a member of Cricket Advisory Committee, along with being the 'icon' of Mumbai Indians.
A couple of weeks back, he was served a notice by the Ombudsman.
CAC members served notice by BCCI Ombudsman
It was reported last week that the CAC members Sourav Ganguly and VVS Laxman, along with Tendulkar, were served a notice by the BCCI's Ombudsman DK Jain for their involvement with IPL franchises.
However, all three members have rejected the claim in their affidavits.
Tendulkar had even requested Jain to call the CoA chief Vinod Rai and CEO Rahul Johri for further clarification.
What is 'tractable category'?
As per the BCCI's constitution clause 38 [3] [a]: "Tractable conflicts are those that are resolvable or permissible or excusable through recusal of the individual concerned and - or - with full disclosure of the interest involved".
Love Sports news?
Stay updated with the latest happenings.
Yes, notify me
Tendulkar surprised at BCCI's move against conflict of interest
"Without prejudice to the aforesaid, the Noticee submits that it is surprising that the BCCI, being the very authority responsible for the Noticee's empanelment to the CAC, is presently taking a position that the Noticee is exposed to an alleged conflict of interest," Tendulkar responded.
Laxman and Tendulkar claim BCCI never explained CAC member's role
Similar to what Laxman had quoted in his affidavit, Tendulkar also responded by saying that the BCCI to date has not explained the role of a CAC member.
"The Noticee [Tendulkar] has time and again sought clarification from the BCCI on the scope of his role in the CAC- but has not received a response from BCCI till date," noted Tendulkar.
Tendulkar claims he recused himself from U-19 selection committee recruitment
Tendulkar also brought up the instance when he once recused himself from being a part of the U-19 selection committee, as his son Arjun was in contention for selection.
"It is critical to note that the Noticee had specifically written to the BCCI in respect of the potential conflict of interest that could have arisen in the aforesaid scenario," Tendulkar registered.
Tendulkar hurt on being asked questions by BCCI
"The Noticee has served the Indian cricket team for more than two decades and accepted empanelment with the CAC to help and contribute towards the growth of Indian cricket. It is unfortunate that the Noticee has to clarify the questions raised," Tendulkar concluded.
Has Sachin played for any other IPL team?
Asked 2019-05-05 19:14:28 by Shreya Jindal
Answered by NewsBytes
No, Sachin has always played for Mumbai Indians?
When did Sachin retire from IPL?
Asked 2019-05-05 19:14:28 by Ishan Kapur
Answered by NewsBytes
Sachin retired from IPL after the 2013 season.
When did Sachin become a CAC member?
Asked 2019-05-05 19:14:28 by Abhinav Pawar
Answered by NewsBytes
Sachin became a CAC member in 2016.
Who is the coach of Mumbai Indians?
Asked 2019-05-05 19:14:28 by Arjun Jayaraman
Answered by NewsBytes
Mumbai Indians are coached by Mahela Jayawardene.