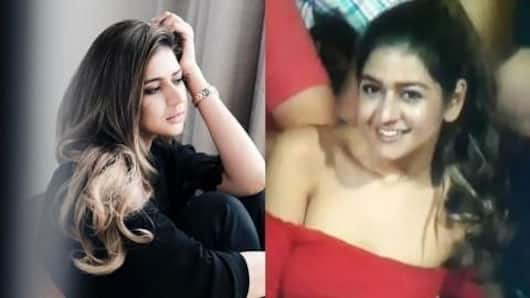 My life hacked in an instant: 'RCB girl' Deepika Ghose
On May 4, during an Indian Premier League (IPL) match between the Sunrisers Hyderabad (SRH) and the Royal Challengers Bangalore (RCB), a lot of fans were focused elsewhere.
As the cameraperson panned to one specific spectator sitting in the bleachers, Deepika Ghose, she instantly became an Internet sensation.
However, dubbed the RCB girl, Ghose recently expressed concerns over her instant fame on Instagram.
Soon after the match, Ghose's Instagram following started rising
After the match, Ghose's Instagram blew up. She was even given a blue tick. At the time of writing this, Ghose has 330k followers.
In her last Instagram post, Ghose detailed the online harassment she has faced since she rose to fame.
She wrote, "My name is Deepika Ghose and that is probably the only thing being said about me which is 100% TRUE."
Love Sports news?
Stay updated with the latest happenings.
Yes, notify Me
Ghose says she 'did nothing to warrant this attention'
"I am no celebrity, just an ordinary girl who was enjoying the match. I did nothing to warrant the kind of attention that ensued after the TV images appeared & I certainly did not seek it," wrote Ghose in her lengthy Instagram post.
Men have been crude, vulgar, vicious and disrespectful: Ghose
She wrote, "While I am grateful for the love, I am disturbed by the unnecessary negativity. It has been an extreme case of abuse, trauma, and mental torture."
Ghose added, "My identity, privacy & life have been hacked in an instant."
She also mentioned that most of her followers are men who have used Instagram to be "crude, vulgar, vicious and entirely disrespectful."
Ghose also spoke about the hate she received from women
"Even more shocking is the hate I've received from women. How quick and cruel you have been to say mean things to and about me without even knowing me. I am one of you. The world desperately needs more women supporting and uplifting each other."
You should've told this before getting verified: Instagram user
Several of her followers raised questions about her sincerity. One Instagram user commented on the post, "Your bio is #thercbgirl and the irony is you want people to know you by your profession... Nice."
Another wrote, "We saw your stories enjoying the attention. They were like 25-30 stories or even more."
Yet another Instagram user commented: "You should've told this before getting verified."
Here's what Ghose plans to do with her Instagram now
Ghose, who describes herself as a "kind, artistic and hardworking woman," says that now she has amassed a great following, she hopes to "turn this into something genuine, meaningful & fabulous."
"I have many talents and have excelled at my work as a stylist and as a dancer/teacher/entrepreneur," she wrote, adding, "Yes, I am #theRCBgirl but I am so much more than that."