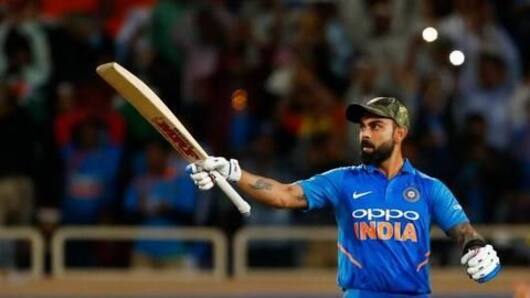 Kohli is determined to win World Cup, says childhood coach
The ICC World Cup 2019 is just a couple of weeks away, and India are one of the favorites to lift their third title.
Being led by Virat Kohli, India would be aiming to win their first ICC title under his leadership.
Meanwhile, Kohli's childhood coach Rajkumar Sharma feels that Kohli would leave no stone unturned to come out on top.
Here is more.
This is Kohli's first World Cup as captain
Rajkumar said that as of now, Kohli has no bigger task other than leading his side in the World Cup.
While he has led India in other ICC tournaments previously, this would be his first World Cup assignment as the captain of Men In Blue.
"He is very devoted and dedicated to making India win the World Cup," Rajkumar said to ANI.
Love Sports news?
Stay updated with the latest happenings.
Yes, notify Me
Rajkumar rues World Cup as big challenge for Kohli
"If you listen to his interviews from the past two years, since then he has been dreaming about the World Cup like how he is going to play in the World Cup and what should be the strategy," added Rajkumar.
Rajkumar also feels Pakistan stand no chance against India
One of the most important clashes of the World Cup would be India taking on arch-rivals Pakistan.
While Pakistan are yet to win a World Cup tie against India, Rajkumar feels that Pakistan are still not at the same level.
"There is no doubt about that. There is no competition as India are a far superior team as compared to Pakistan," he opined.
Vijay Shankar the ideal number four batsman
India's number four batting slot has been up for grabs since the last couple of years.
While India have a number of options in the form of KL Rahul, Dinesh Karthik and Vijay Shankar, he backed Shankar.
"My first choice will be Vijay Shankar because along with batting he is also a good bowler in those conditions," voiced Rajkumar.
Shankar ideal, but Pakistan cannot be written off
Considering the statements by Rajkumar, the author agrees with him backing Shankar as the ideal number four batsman.
Since he is an all-rounder, India would certainly enjoy an edge.
However, the author also feels that while Pakistan have struggled against India in the World Cups, they can't be written off.
Notably, Pakistan did beat India in Champions Trophy in 2017.
When did India last win the World Cup?
Asked 2019-05-14 16:25:36 by Parakram Rodrigues
Answered by NewsBytes
India last won the World Cup in 2011.
When was India's first World Cup win?
Asked 2019-05-14 16:25:36 by Ankita Mukopadhyay
Answered by NewsBytes
India's first World Cup win came in 1985.
How many ICC tournaments has Kohli led India in?
Asked 2019-05-14 16:25:36 by Aadhya Kadam
Answered by NewsBytes
Kohli has led India in two ICC tournaments to date.
Who was India's captain in 2015 World Cup?
Asked 2019-05-14 16:25:36 by Hansika Rathore
Answered by NewsBytes
India were led by MS Dhoni in 2015 World Cup.