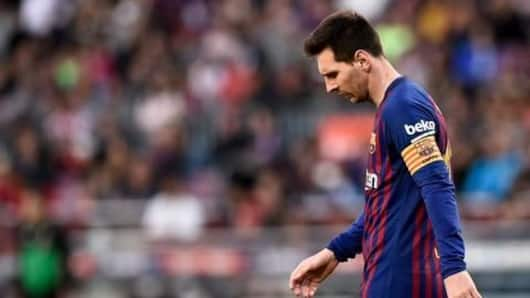 Lionel Messi booed by Barcelona fans: Details here
If we talk about Barcelona, the first name that comes to one's mind is Lionel Messi.
Since the last decade, he has played a pivotal role in La Liga as well as European tournaments.
However, Barcelona's inability to win the Champions League in 2018-19 has, reportedly, made fans angry.
In the same light, Messi and Co. were booed during their final La Liga game.
Messi fails to score as Barca knocked-out of UCL semis
Messi's world turned upside down when Barcelona squandered a three-goal lead against Liverpool as they were knocked out in the semis of the UEFA Champions League last week.
Notably, Messi failed to score in the match, after having scored his 600th career goal in the home leg against the Reds.
As a result, Messi was criticized, while some fans blamed him for the loss.
Love Sports news?
Stay updated with the latest happenings.
Yes, notify Me
Messi booed at Camp Nou against Getafe
Messi was certainly upset with the fact that Barca were knocked out of the European tournament, despite having promised his fans, prior to the season, to guide the Spanish giants to the title in 2018-19.
However, misery piled up when the Little Magician was booed by the fans at Camp Nou this weekend, in their La Liga tie against Getafe.
Whistles blown at Philippe Coutinho
It wasn't just Messi who faced the wrath of the crowd, but also mid-fielder Philippe Coutinho. He was whistled at during the Getafe match.
Moreover, Coutinho has been rumored to be moving away, as he is being eyed by English giants Chelsea as a possible replacement for Eden Hazard.
This could also be an indication that his time here could be up.
Empty stands greet Barca in final La Liga tie
The attendance at Camp Nou also took a hit during their final La Liga tie against Getafe.
With a capacity of 99,000, only 57,000 fans turned up.
Although Barca had already won La Liga crown this season, a low turnout at the title-handover tie of the season certainly wasn't expected.
It feels like a means of protest by the fans.
Messi still a Barca superstar despite fan protests
The reaction of fans does seem harsh, especially after what Messi has done over the years for Barcelona.
However, the disgruntlement among fans is likely to fade away by the start of the next season.
Least to say, Messi would still be worshipped as their God next season, while he would forever remain a Barca legend.
Messi and Barca eye Copa del Rey success
While Barca have already won La Liga, they have one game remaining against Eibar on Sunday. It would be followed by the Copa del Rey final on May 25 against Valencia. Messi would look to clinch it to make it up for the UCL ouster.
When did Barcelona last win the UCL?
Asked 2019-05-14 21:05:46 by Ajay Jain
Answered by NewsBytes
Barcelona last won the UCL in 2014-15.
Who s La Liga's top scorer this season?
Asked 2019-05-14 21:05:46 by Parakram Pawar
Answered by NewsBytes
Messi is La Liga's top scorer this season, with 34 goals.
When did Messi join Barca?
Asked 2019-05-14 21:05:46 by Aditya Gupta
Answered by NewsBytes
Messi joined Barca in 2003.
How many goals has Messi scored for Argentina?
Asked 2019-05-14 21:05:46 by Aditya Venkatesan
Answered by NewsBytes
Messi has scored 65 goals in 129 matches for Argentina.