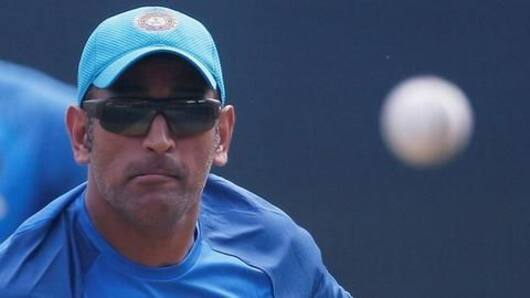 Dhoni had an interesting punishment in case players arrived late
Paddy Upton, India's former mental conditional coach, has made some interesting revelations in his book 'The Barefoot Coach', especially about the Indian dressing room.
He had even spoken about Gautam Gambhir's mental toughness.
And recently, he revealed about an interesting punishment, introduced by then Indian skipper MS Dhoni for the players who arrived late for the team meetings and training sessions.
Here's more.
We had a very self-governing process: Upton
During Upton's time, Anil Kumble was the Test captain, while Dhoni took care of the white-ball squad.
They decided that it was important for every player to be on time for training sessions and team meetings, which led to the concept of penalizing the person who turned up late.
While there were a number of suggestions, the captains had the final say.
Kumble suggests fine of Rs 10,000, Dhoni adds a twist
Upton further revealed that Kumble came up with the concept of a monetary fine of Rs. 10,000 for the Test squad.
However, Dhoni tweaked the punishment for the team a bit, by making the complete team accountable.
Thus, if a player turned up late, it won't be just him paying the fine, but the same would be applicable on the entire team.
Love Sports news?
Stay updated with the latest happenings.
Yes, notify me
"Nobody was ever late from the one day team again"
"MS (Dhoni) said that 'yes there should be a consequence. So if somebody is late, everybody will pay a ten thousand rupees fine!' Nobody was ever late from the one day team again," recorded Upton in his book, as the move had a great impact.
Dhoni is well-known to come up with unique ideas
Over the years, Dhoni has given quite a few unique offerings to cricket.
While he introduced his trademark Helicopter Shot, he was acclaimed for his fearless approach to let Joginder Sharma bowl the final over in the ICC World T20 2007 final.
His ability to stay calm under pressure situations itself is idiosyncratic.
He remains one of the sharpest cricketing minds of this generation.
Since when was Paddy Upton India;s conditioning coach?
Asked 2019-05-15 20:04:03 by Divya Dutta
Answered by NewsBytes
Upton was India's conditioning coach from 2008-11.
Where does Upton belong from?
Asked 2019-05-15 20:04:03 by Pranav Yadav
Answered by NewsBytes
Upton belongs from South Africa.
When did Kumble retire from Tests?
Asked 2019-05-15 20:04:03 by Aaradhya Chavan
Answered by NewsBytes
Kumble retired from Tests in November 2008.
When did Dhoni retire form Tests?
Asked 2019-05-15 20:04:03 by Ridhi Jhadav
Answered by NewsBytes
Dhoni retired from Tests in December 2014.