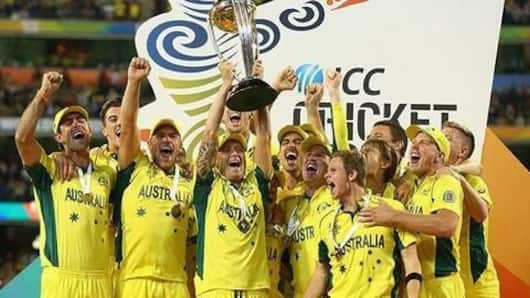 Here are some unique records scripted in ICC World Cup
The ICC World Cup is undoubtedly the most awaited event in cricket.
Fans enjoy the tournament, as they get to witness the top cricketing stars play against each other.
Over the editions, there are a few unique records which have been scripted in the tournament.
In the same light, we take a look at such records in the tournament's history to date.
Sachin Tendulkar and Javed Miandad have played six World Cups
Playing the World Cup is a big honor for any player, even if it is for only a single edition.
Interestingly, India's Sachin Tendulkar and Pakistan's Javed Miandad have represented their country in six consecutive editions of the tournament.
Notably, both only won it once. While Miandad won it in 1992, his fifth edition, Tendulkar won it in his sixth and final appearance (2011).
Love Sports news?
Stay updated with the latest happenings.
Yes, notify Me
India only team to win 60 and 50 overs title
If one remembers, ODIs used to have a 60-over inning initially, before being switched to 50 in 1987.
While India won the World Cup in 1983, which was the 60-over format, their win in 2011 was in the 50-over format.
This made them the first and only team to do so.
The initial two editions, prior to 1983, were won by West Indies.
Kapil Dev: Youngest captain to win World Cup
The World Cup 1983 win for India scripted several records, which are yet to be broken.
One of the unique records that it produced belongs to the winning captain Kapil Dev.
At that time of the title, Kapil was just 24 years, 5 months and 19 days old, thus making him the youngest captain to win the World Cup to date.
Kumar Sangakkara has scored four consecutive centuries
Sri Lanka have been only one-time lucky to win the World Cup, in 1996.
However, that edition did not feature their legendary player Kumar Sangakkara, who produced a special record in the 2015 edition.
He became the first batsman to score four consecutive centuries in a World Cup, but Lanka failed to capitalize on his form and were knocked out in quarters.
Lasith Malinga has double hat-trick
Hat-trick is a rare phenomenon in the World Cup. However, Sri Lanka's fast bowler Lasith Malinga has an unusual love for them.
He claimed his first hat-trick of the tournament in 2007 against South Africa, followed it up against Kenya in the 2011 edition, thus making him the only one to do so.
He has a chance to make it three, come this edition.
Australia's unbeaten streak
Australia, being the most successful country to date, have this astonishing record of the longest unbeaten streak in the tournament.
It started in 1999, with a win against Bangladesh, and ended in 2011 with a loss to Pakistan in the group stage.
With an unbeaten streak of 34 matches, it would certainly be a monumental task for any team to repeat the feat.
When does the World Cup get underway?
Asked 2019-05-16 19:44:00 by Rishika Malik
Answered by NewsBytes
World Cup gets underway from May 31.
Who did India beat in the 1983 final?
Asked 2019-05-16 19:44:00 by Ayaan Singh
Answered by NewsBytes
India beat West Indies in the 1983 final.
Who was Australia captain in 2007 World Cup?
Asked 2019-05-16 19:44:00 by Trisha Mehra
Answered by NewsBytes
Australia were led by Ricky Ponting in 2007 World Cup.
How many times have Pakistan won the World Cup?
Asked 2019-05-16 19:44:00 by Pari Mittal
Answered by NewsBytes
Pakistan have won the World Cup only once, in 1992.