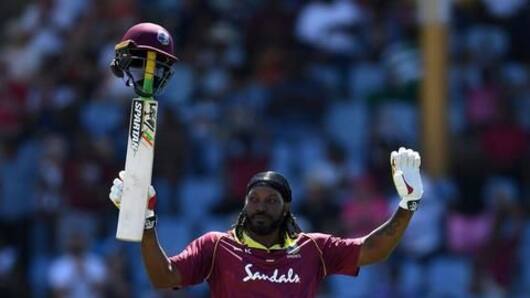 Chris Gayle opens up about playing 2019 World Cup
Windies swashbuckling opener and 'Universe Boss' Chris Gayle would be playing his fifth and final ICC World Cup this year.
With this, he is set to join other legends including Brian Lara and Shivnarine Chanderpaul.
However, he is yet to put his hands on the coveted trophy.
As he prepares for one last shot at the title, he spoke about his journey so far.
Fans inspire Gayle to keep going
On being asked about what inspires him to keep going, Gayle quickly pointed out that it was the fans and he plays cricket for them.
"They actually drive me to go on. I know nothing lasts forever and hopefully, I can give them a few more games and it also pushes you to win the World Cup," he was quoted as saying to PTI.
Love Sports news?
Stay updated with the latest happenings.
Yes, notify Me
Gayle feels it's consistency which helps one earn praise
"It shows consistency in the career. That keeps you going and earn a lot of praise. Hard work in the last couple of has years paid off. People want to see you more and you are trying to deliver as much as possible," he added.
Could never dream of playing so many World Cups
It should be noted that Gayle didn't play ODI cricket for 30 months following their quarter-final exit in 2015 World Cup.
However, he still managed to make a comeback and he was pretty much surprised by it.
"Never really considered thinking about it but time does fly quickly. I could never dream of playing so many World Cups, but it has happened," he said.
Gayle optimistic about progress in Windies Cricket
Cricket Windies has undergone a strong change in structure over the past years, along with achieving success under skipper Jason Holder.
Meanwhile, Gayle was optimistic about the progress and said, "Hopefully, the new team gets it right, gets the structure in place. Cricket is the most important thing for the Caribbean. Hope they take the game to where it is supposed to be."
Need to rebuild a lot of things
"It will take time, of course. Lot of things need to be rebuilt. On the field, we had a good series against England, now the World Cup is coming up and that is another opportunity for us to turn things around," Gayle further opined.
Gayle has been in fine form of late
Gayle scored the second-most runs for Kings XI Punjab in IPL 2019, 490 in 13 innings at an average of 40.83.
In his last 10 ODIs, he has scored 576 runs at a whopping average of 64.
Considering his performance in England, he has scored 1,016 runs in 28 innings at an average of 39.07.
Therefore, he does have form on his side.
Windies bank on Gayle's form as they eye history
As the above stats show, Gayle has been in sensational form.
The author feels that Windies would heavily rely on his form and experience, as they eye their third World Cup title.
Even though, Windies don't enter the competition as one of the favorites, they have the firepower across departments to upset the bigger teams.
We witnessed their magic in the series against England.
When did Gayle make his ODI debut?
Asked 2019-05-16 20:07:32 by Harini Verma
Answered by NewsBytes
Gayle made his ODI debut on September 1999.
How many ODIs has Gayle played for Windies to date?
Asked 2019-05-16 20:07:32 by Paridhi Malik
Answered by NewsBytes
Gayle has to date played 289 ODIs to date for Windies.
Was this Gayle's final IPL?
Asked 2019-05-16 20:07:32 by Saanvi Verma
Answered by NewsBytes
Gayle has not yet commented on his IPL future.
Where does Gayle hail from?
Asked 2019-05-16 20:07:32 by Ananya Powar
Answered by NewsBytes
Gayle hails from Kingston, Jamaica.