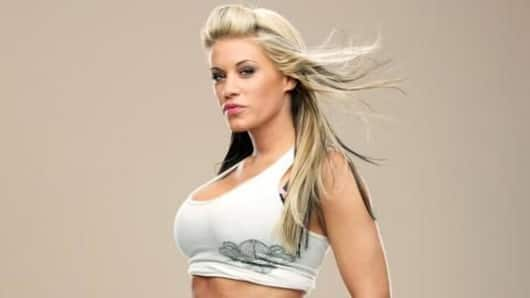 Former WWE Diva Ashley Massaro dies at 39
Former WWE Diva Ashley Massaro passed away on Thursday. She was aged 39.
The incident shocked the pro-wrestling world, as tributes started pouring in.
While the reason of her death is not known, for now, it has been confirmed that the death was non-criminal. She died while being transported to a hospital from home.
She is survived by her 18-year-old daughter, Alexa Massaro.
WWE grieves on Ashley's demise
"We are saddened to learn of the tragic death of former WWE Superstar Ashley Massaro. WWE offers its condolences to Ashley's family and friends," said WWE in a statement.
Love Sports news?
Stay updated with the latest happenings.
Yes, notify Me
Ashley: The winner of 2005 Diva Search
Ashley made her way to WWE in 2005 when she won the Diva Search competition.
She was with the company for three years until 2008.
While she was involved in a number of feuds, she never won the Women's Championship in her career.
Besides this, she was also a valet for the tag-team stable of Brian Kendrick and Paul London.
Ashley's tag-team partner Maria Kanellis too expresses grief
I have no words. Ashley was my tag partner at Wrestlemania. My sometimes road wife. We did countless photo shoots and press days together. It seems like yesterday Ashley was a major part of my life and then our worlds changed and now she is gone. Im heartbroken for her family. https://t.co/QTcNxN3P0K pic.twitter.com/olaTWKD9JS

— MariaKanellisBennett (@MariaLKanellis) May 17, 2019
Ashley had an eventful life outside WWE
Speaking on her life outside WWE, Ashley participated in a TV reality show Survivor: China. However, she was eliminated just six days later.
Being a model, she won many pageants, while she also appeared as the cover girl of Playboy.
Being an actor, she once starred in an American series Smallville, alongside Kane.
She also appeared in two music videos.
Torrie Wilson devastated by Ashley's demise
I can't even begin to explain how devastated I am to hear about @ashleymassaro11 - legit one of the sweetest people I've ever known. When we fall into a dark place it can seem like it will never change but if you are there PLEASE keep hope reach out for help.

— Torrie Wilson (@Torrie11) May 17, 2019
Ashley is survived by a daughter
Very little is known about Ashley's personal life and relationships.
While she never got married, she gave birth to a daughter, Alexa, in 2000, prior to joining WWE.
She never publicly revealed as to who was the father of her daughter.
She quit WWE in 2008 in order to take care of her daughter, who fell ill that year.
Ashley was planning to return to pro-wrestling
Gonna be bumping around the ring starting next week at @NYWCWRESTLING 🤔 😜 super pumped n ready to see what I got left in these ole boots of mine! Those guy are the best super safe and make me feel so comfortable-if u live in tri state area n want to train-THIS IS WHERE ITS AT!

— ☆ Ashley Massaro ☆ (@ashleymassaro11) March 21, 2019
Who did Ashley last feud with in WWE?
Asked 2019-05-17 12:49:30 by Aaradhya Malhotra
Answered by NewsBytes
Ashley last feud with Layla, Melina, Phoenix, Natalya, Hall and Victoria in a tag-team match.
What other promotions outside WWE she has wrestle for?
Asked 2019-05-17 12:49:30 by Parakram Patel
Answered by NewsBytes
Outside WWE, she has wrestled for Zero1 Professional Wrestling USA.
Was Ashley planning on returning to WWE?
Asked 2019-05-17 12:49:30 by Divya Trivedi
Answered by NewsBytes
No, Ashley was planning on returning to pro-wrestling with NYWC.
Did Ashley ever feud for the Women's Championship?
Asked 2019-05-17 12:49:30 by Hansika Dutta
Answered by NewsBytes
Ashley did feud for the Women's Championship against Melina at WrestleMania 23.