Sports
Awadhe Warriors have an easy win over Delhi Acers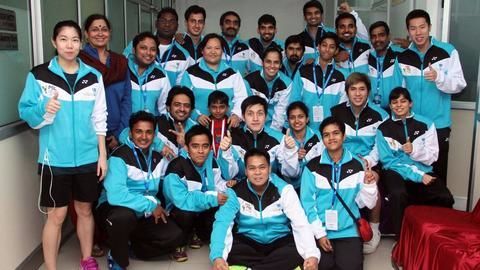 After winning all the five matches of their tie against Delhi Acers, hosts Awadhe Warriors registered a 6-(-1) win in the 2017 Premier Badminton League at Lucknow.
In the last match of the day, Wing Ki Vincent Wong registered a 11-8, 11-7 victory over Son Wan Ho.
Having won both their ties, the Warriors are on top of the points table.
In context:
2017 Premier Badminton League - Day 5 Updates!
Saina vs Nitchaon

Saina Nehwal wins the Trump match 14-12, 11-7
After the Awadhe Warriors won the men's doubles match, Saina Nehwal gave them the second win of the day against defending champions Delhi Acers.
Saina defeated Nitchaon Jindapol 14-12, 11-7 in the women's singles match.
The world number 10 had a tough fight in the first game, but went on to win the second game in just 15 minutes giving Awadhe a 3-0 lead.
Kidambi vs Jan

Kidambi makes a fighting comeback; defeats world number two
Awadhe Warriors' Srikanth Kidambi continued the team's winning run against Delhi Acers in the first match of the Lucknow tie at the UP Badminton Academy.
He defeated world's number two shuttler Jan O Jogensen 11-9, 13-11, 11-9 to tighten Warriors' hold over the tie.
Kidambi's win gave Warriors a point and extended their lead to 4-0.
Love Sports news?


Stay updated with the latest happenings.
Savitree Amitrapai and Bodin Isara extend Warriors' lead to 5-0

Awadhe Warriors continued unbeaten run of nine matches at the 2017 Premier Badminton League after Savitree Amitrapai and Bodin Isara defeated the pair of Jwala Gutta and Vladimir Ivanov 12-10, 11-5; giving the Warriors a 5-0 lead over Delhi Acers.
06 Jan 2017

Awadhe Warriors have an easy win over Delhi Acers
Today's schedule

Hosts Awadhe Warriors will meet Mumbai Rockets in the second tie of Lucknow before the tournament shifts to Bangalore. Awadhe Warriors are on top of the points table with 11 points while Mumbai Rockets are on third with eight points.