Sports
Dhoni to lead India one last time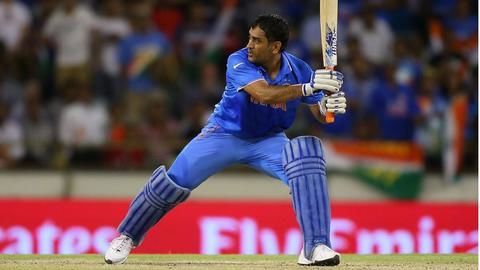 Former Indian captain Mahendra Singh Dhoni will be leading the Indian team for one last time.
He will lead the India 'A' team for the first warm up match against England on 10 January at the Brabourne Stadium in Mumbai.
Dhoni has also been named in the ODI and T20 squad for the England series, which starts from 15 January.
In context:
What has Dhoni given us over the years?
06 Jan 2017

End of Dhoni's captaincy era
After leading India in 199 ODI matches and 72 T20 internationals, Mahendra Singh Dhoni stepped down as captain on 4 January 2017.
Over the nine years, Dhoni has given Indians the memories of their lifetimes.
Let us look back in time to see what one of the most loved and popular Indian captains has given us.
2007-2016

Encouraging the young cricketing talent
Be it Joginder Sharma, Rohit Sharma, Ravindra Jadeja, Suresh Raina, Virat Kohli or Hardik Pandya, Mahendra Singh Dhoni has always promoted the young talent.
Right from the start of his captaincy, he put a lot of faith in youngsters when no one else did.
As a captain, he made sure that newcomers got as much opportunities as the experienced players in the team.
Love Sports news?


Stay updated with the latest happenings.
Dhoni's bold decisions

The 2007 incident when Dhoni gave young Joginder Sharma the chance to bowl in the last over of WorldT20 is quite popular. Additionally, his decision of giving the 18th over to Ishant Sharma during the final of 2013 Champions Trophy proved to be a game-changer.
2008/2012

A sense of trusting the team and questioning the seniors
Mahendra Singh Dhoni put cricket before everything and did whatever he could for the best of Indian team.
He gave the youngsters a chance and used the rotational formula when it came to senior players.
In 2008, he made Sachin Tendulkar, Virender Sehwag and Gautam Gambhir play in alternate matches so as to maintain the balance of the team.
Achievements

Champion of the champions
Mahendra Singh Dhoni is the only captain in the world who has led his team to win all the ICC championships, the World T20 in 2007, the 2011 World Cup and 2013 Champions Trophy.
Dhoni has led India in 331 international matches, most by any captain.
He took India to the number one spot in ICC Test Rankings for the first time in 2009.
07 Jan 2017

Dhoni to lead India one last time
Love Sports news?


Stay updated with the latest happenings.
13 Jan 2017

I don't believe in split captaincy: Dhoni
In his first press conference after giving up ODI and T20 captaincy, Mahendra Singh Dhoni said that split captaincy does not work for him.
He said that the team needs one leader and Virat Kohli is ready to lead the team in limited overs also.
Dhoni added that the current Indian team has ability to win anywhere.