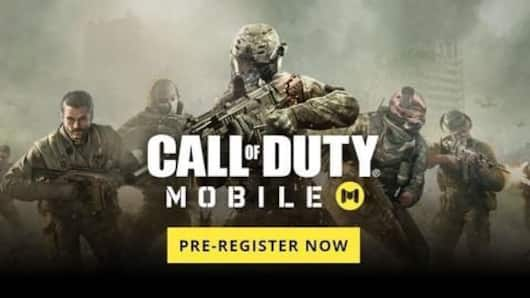 #GamingBytes: Rivals 'PUBG' and 'CoD' to have this common feature
PUBG Mobile is all set with its next 0.13.0 update. There are new features, weapons, items, and bug fixes.
Recently, Call of Duty Mobile was also launched in a beta version to cash in on the increasing demand for Battle Royale titles on mobile devices.
The two rival games, however, share a similar feature (originally CoD's).
Here's all you need to know about it.
'Call of Duty Mobile' has gamers excited
The game is available for pre-registration and will soon launch for all mobile devices.
It will be free-to-play for both Android and iOS and apart from a Battle Royale mode, it will have a zombie mode, multiplayer mode and missions like Search and Destroy similar to its PC version.
With five playable maps, the game will allow solo/co-op play, in-game purchases, events, and rankings.
'Call of Duty Mobile' features a 'Team Deathmatch' mode
The beta version has this mode where two teams battle it out in various maps and scenarios.
The goal is to get maximum kills and respawns are allowed for a stipulated time. Players are also given distinct weapons which respawn with them.
This mode, called Deathmatch, can be played in First Person Perspective in CoD.
And PUBG Mobile is planning to introduce something similar.
Love Sports news?
Stay updated with the latest happenings.
Yes, notify me
A similar mode is now coming to 'PUBG Mobile'
PUBG will release its own Deathmatch mode in the 0.13.0 update similar to Arcade Mode: War.
This will be available in a new EvoGround Section named 'TOM: Warehouse'.
Two teams will compete in either FPP or TPP. Players will be able to respawn with pre-selected weapons and the team with maximum kills (up to 40) in 10 minutes will win the game.
The two games are quite alike in various aspects
Both Battle Royale titles are popular with gamers across the world. Call of Duty is a game that introduced a lot of us to gaming and PUBG made Battle Royales more fun than ever.
The gameplay of the two is quite similar, with PUBG being better at giving options and CoD being better at graphics.
Here's what 'PUBG Mobile's 0.13.0 update has in store
With the new update, PUBG will enter a partnership with Godzilla: King of the Monsters movie and have various references along with Godzilla himself.
A new gun named Bizon, four new zombies, and a new building named 'Abandoned Factory' are also in the works.
Besides the Deathmatch mode, players will get MVP emotes, more effective Liquid Nitrogen Mines and major bug fixes.
When does PUBG Mobile's 0.13.0 update release?
Asked 2019-05-31 22:10:59 by Trisha Sengupta
Answered by NewsBytes
There hasn't been any official announcement but the update could release in a few days.
Which gun is releasing in the new update?
Asked 2019-05-31 22:10:59 by Muhammad Gavde
Answered by NewsBytes
A new gun named Bizon is being released. This will most probably use 9mm ammo.
Which is the best location in Sanhok?
Asked 2019-05-31 22:10:59 by Shaurya Sharma
Answered by NewsBytes
If you want to play an all-out offensive game, go for Bootcamp. If you like strategizing, land in Pai Nan, and if you want to play defensive, go for Ha Tinh.
Can I download CoD Mobile?
Asked 2019-05-31 22:10:59 by Trisha Singhal
Answered by NewsBytes
The game is available for pre-registration. Beta testers can download it as of now.