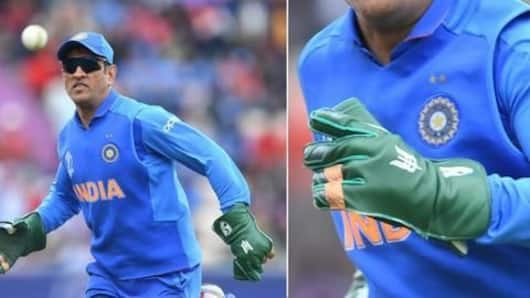 ICC rejects BCCI's appeal, says no Army-insignia on Dhoni's gloves
In a new development, the ICC has rejected the BCCI's plea to allow former Indian skipper MS Dhoni to don wicket-keeping gloves with Army insignia.
Notably, Dhoni was seen wearing the gloves with the 'Balidaan Badge' in the opener against South Africa.
It seems Dhoni has breached two clauses of the clothing and equipment regulations by wearing those gloves.
Here are the details.
What sparked the controversy?
Dhoni was spotted donning the Army insignia gloves during India's opening World Cup 2019 match against South Africa on June 5.
The ICC then asked the BCCI not to allow MSD from wearing the same during India's next encounter against Australia on Sunday.
The 'Balidaan Badge' or the Army insignia was seen on television during the match.
Key information about the Balidaan Badge or the Army insignia
'Balidaan' is a distinct insignia of the special forces which is attached to the Parachute Regiment.
The special forces personnel are allowed to wear 'Balidaan' patch.
Only para commandos are allowed to wear the patch.
The logo has a commando dagger that's pointed downwards.
There are wings that extend upwards from the blade.
The scroll on the blade has 'Balidaan' inscribed in Devanagari.
Love Sports news?
Stay updated with the latest happenings.
Yes, notify Me
This is what the ICC had said
"Two manufacturers' logos are permitted on each wicket-keeping glove. No other visible logos other than the manufacturers' logos are allowed," Claire Furlong, the ICC General Manager - Strategic Communications, told The Indian Express.
BCCI was in favor of MSD, had filed an appeal
To recall, Dhoni was conferred an honorary rank of Lieutenant Colonel in the Parachute Regiment in 2011.
He had also undergone training under the Para Brigade in 2015.
Meanwhile, the BCCI was in favor of Dhoni, as the CoA chief Vinod Rai felt that the insignia is neither commercial nor religious.
The Indian board had even filed an appeal but it was rejected.
Instances when Indian players wore something to support a cause
Last year at the fifth and final Test match between England and India at The Oval, both team captains had donned a poppy made out of khadi.
This was done to recognize the role of Indian soldiers in the First World War, where they had served under the British armed forces.
Against Australia, Kohli had supported the 'Pink Test' in his own way.