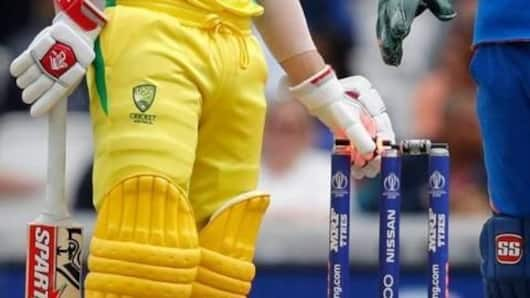 Kohli and Finch are not happy with bails: Details here
The ICC World Cup 2019 has seen its first major controversy in the form of the bails, which don't want to fall.
There have been several instances so far where the bails have refused to fall off, awarding the batsmen a lifeline.
A fresh incident happened on Sunday, when David Warner survived the onslaught against India.
Meanwhile, the two captains have expressed their disappointment.
It shouldn't be tolerated: Kohli
Following the match, Kohli said that it is something that shouldn't be tolerated in international cricket.
While he praised the 'zing' bails, he said in order to make these bails fall, the stumps have to be hit really hard.
"If I see something happening like that, I'd be very surprised, also. And these are fast bowlers. These are not your medium-paced bowlers," said Kohli.
Don't know what's actually wrong with the stump
"I don't know, and MS (Dhoni) said we checked the stump hole, as well. The stump was not in very hard, it was actually loose. So I don't know what's actually wrong with the stump, the outer coating of the stump," added Kohli.
Love Sports news?
Stay updated with the latest happenings.
Yes, notify Me
Kohli understands the frustration of bowlers
Kohli also expressed his sympathy for the bowlers, saying that no team would want to see a good delivery not being able to dismiss the batsman.
"The ball hits the stump and the lights don't come on, or the lights come on and the bail comes back on to the stump. I haven't seen that happen so many times in the past," Kohli opined.
Finch also believes it is unfair
Australian captain Aaron Finch also believes that it is unfair for the bowler.
He also added that teams would hate to see such an incident happening in the semis or the final of the tournament.
"All I know is that bails should be lighter, so that when I hit the stumps, it comes off," he joked.
Finch and Kohli voice their opinion about zing bails
Aaron Finch and Virat Kohli have some concerns about the Zing bails being used at the World Cup. #CWC19 pic.twitter.com/V3t5SEIxFF

— cricket.com.au (@cricketcomau) June 10, 2019
Lighter bails along with rule change needed
The author believes using lighter bails is definitely a solution, as there is no weight limit on the bails.
However, making lighter zing bails would be a task at hand. We believe that changing the rule would make the job easier, as a simple touch should be enough to dismiss a batsman.
In any case, the ICC needs to find a solution.
How much does an LED bail cost?
Asked 2019-06-10 20:35:00 by Abhinav Sengupta
Answered by NewsBytes
An LED bail costs as much as a high-grade iPhone.
Are wooden bails lighter than LED bails?
Asked 2019-06-10 20:35:00 by Rajesh Trivedi
Answered by NewsBytes
Yes, wooden bails are lighter than LED bails, since the latter consists of wiring inside which makes it heavier.
Since when was LED bails introduced in cricket?
Asked 2019-06-10 20:35:00 by Aaradhya Jhadav
Answered by NewsBytes
LED bails were introduced in BBL in 2012-13.
Are LED baisl used in Test cricket?
Asked 2019-06-10 20:35:00 by Ajay Sengupta
Answered by NewsBytes
No, LED bails are only used during limited-overs cricket.