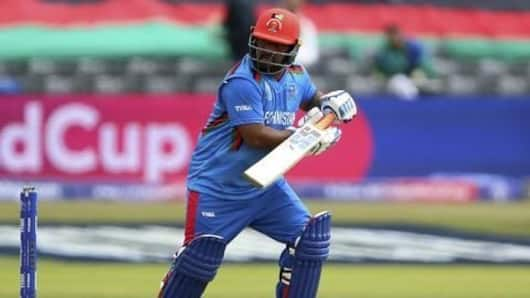 Mohammad Shahzad threatens to quit cricket following axe: Details here
Afghanistan's wicket-keeper batsman Mohammad Shahzad is upset with the fact that he has been declared unfit for the remainder of ICC World Cup 2019.
Owing to this, he has said that he might quit the game in case the team management decides not to feature him in the remaining games.
He is reportedly suffering from a knee injury, currently. Here's more.
ACB believes Shahzad's knee injury makes him unfit
Although Shahzad had played the opening two games for the side, he was dropped in the third game.
Afghanistan Cricket Board reasoned that his knee injury has made him unfit and he won't be available for the rest of the tournament.
He managed to score just seven runs in the two matches so far, as Afghanistan lost those matches to Australia and Sri Lanka.
Shahzad cries foul play, rues quitting cricket
Shahzad was unhappy with the decision as he said that he would quit the game as the board does not want him to play.
He said that he had consulted a doctor in London, and was cleared to play after a couple of days rest.
"I am going to consult with friends and family, my heart isn't in cricket anymore," rued Shahzad.
Love Sports news?
Stay updated with the latest happenings.
Yes, notify Me
ACB defends Shahzad's axe
Meanwhile, Asadullah Khan, the board's chief executive, defended Shahzad's axe saying that their priority was to field match-fit players, and that there was no foul play.
"It's absolutely wrong to say that he was unfairly dropped. We've given a medical report to the ICC to prove that he is unfit, and after thorough deliberation they allowed us to replace him," he told ESPNCricinfo.
"We can't carry unfit players"
"We can't carry unfit players. We understand Shahzad was not fully fit when he still went on to play two games and this is not acceptable anymore," Asadullah further said.
Afghanistan eye opening World Cup win
As of now, Shahzad has been replaced by 18-year-old Ikram Ali Khil.
Meanwhile, the side would look to earn their opening win of the tournament, after losing opening three matches, when they take on South Africa on Saturday.
The latter too is in search for its opening win, having lost three and the fourth being a washout, allowing them to earn a point.
How many World Cups have Afghanistan featured in?
Asked 2019-06-11 18:52:18 by Ridhi Jaiteley
Answered by NewsBytes
This is Afghanistan's second World Cup appearance.
Where did Afghanistan finish last World Cup?
Asked 2019-06-11 18:52:18 by Arnav Chauhan
Answered by NewsBytes
Afghanistan were ousted in the group stage of the 2015 World Cup.
How old is Shahzad?
Asked 2019-06-11 18:52:18 by Muhammad Sarin
Answered by NewsBytes
Shahzad is currently 31-year-old.
Does Shahzad play in the IPL?
Asked 2019-06-11 18:52:18 by Ishan Chavan
Answered by NewsBytes
No, Shahzad has not been picked by any IPL franchise to date.