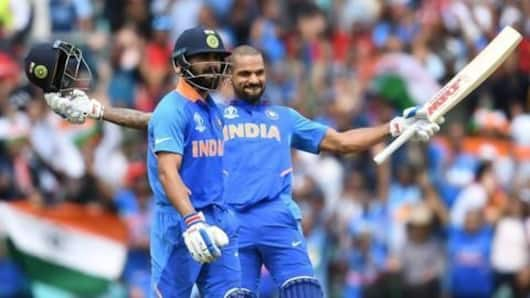 Do you remember these instances when India ended Australia's streak?
India and Australia are two of the major forces in world cricket, and put up a commendable fight when they take the field.
As India defeated Australia in the ICC World Cup 2019, they ended the winning streak of Aussies in the tournament.
This is not the first time India have overcome Australia, as we present other instances where India ended their streak.
India end Australia's run of most consecutive Test wins
In October 1999, Australia started the streak of their most consecutive wins in Tests.
Following their win over West Indies, Australia entered India in 2001 for a three-Test series.
As they won the opening Test in Mumbai, they extended their run to 16.
However, the next Test in Kolkata saw them suffer a 171-run defeat, while India won the series in the next match.
Australia's 25-Test unbeaten run at home gets broken
Everyone remembers India winning the Adelaide Test in 2003, courtesy of amazing knocks by VVS Laxman and Rahul Dravid.
Post the loss, Australia went on a 25-Test unbeaten streak at home, which saw 22 wins and three draws.
It was in 2008, when India again ended their streak with a 72-run win in Perth.
A similar record is held by Pakistan of 26 Tests.
Love Sports news?
Stay updated with the latest happenings.
Yes, notify Me
India end Australia's three-year Test series win run
In 2008, Australia toured India for a four-match Test series.
Australia were on a nine series unbeaten since their ICC Super Series Test Match win in 2005, and were the definite favorites.
However, following a draw in the opening Test, India managed to win the second and fourth Test to win the series 2-0.
The series was headlined by Amit Mishra's lethal spin bowling.
India overcome Australia in ODIs as well
While India ended their Test streak, the next came in the ODIs.
Since November 2014, against South Africa, Australia started a long unbeaten run in ODIs at home.
In 2016, India toured Australia for a five-match series, as they lost the first four ODIs, extending Australia's streak to 19, the longest by any team.
However, India won the final game, to end their streak.
Putting an end to Australia 10-match winning streak in ODIs
Australia lost the ODI series at home to India early this year.
In the return series, while India took a 2-0 lead, Australia bounced back strong to win the next three and win the series.
They also whitewashed Pakistan in UAE next, while they won the opening two matches of the World Cup thereafter.
However, India made sure to end their 10-match winning streak.
How many times have Australia won the World Cup?
Asked 2019-06-12 14:19:39 by Shreya Rangarajan
Answered by NewsBytes
Australia has won the World Cup for a record five times.
How many times have India won the World Cup?
Asked 2019-06-12 14:19:39 by Ridhi Jhadav
Answered by NewsBytes
India have won the World Cup twice, 1983 and 2011.
Where did India finish in the last World Cup?
Asked 2019-06-12 14:19:39 by Vibhore Mehta
Answered by NewsBytes
India were knocked out in the semis of the 2015 World Cup.
When did Australia win the first World Cup?
Asked 2019-06-12 14:19:39 by Hansika Bhatnagar
Answered by NewsBytes
Australia won the first World Cup in 1987.