Sports
PBL: Hyderabad Hunters becomes fourth team to reach semis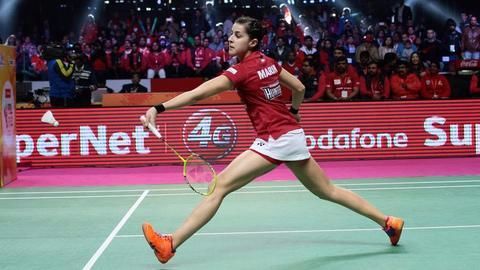 Carolina Marin took Hyderabad Hunters in the semi-finals of the 2017 Vodafone Premier Badminton Legue.
She defeated Delhi Acers Nitchaon Jindapol 15-14, 11-4 in the women's singles match to take the winning points for Hunters.
The Hunters won the tie 5-2 after registering a victory in the men's doubles match, which was also the last match of the tie.
In context:
2017 Premier Badminton League - Day 12 Updates!
Verma vs Verma

Sameer edges out Siril in the battle of the Vermas
Sameer Verma gave Hyderabad Hunters a winning start against Delhi Acers in the last league match of the Premier Badminton League.
He defeated Siril Verma 8-11, 11-3, 11-2.
Sameer bounced back after losing the first game and dominated the remaining two games, giving little chance to Siril to make a comeback.
Hyderabad led 1-0 after the match.
Hyderabad Hunters extend their lead

Hyderabad Hunters' pair of Satwik Sairaj and Chau Hoi Wah defeated Delhi Acers' Vladimir Ivanov and Jwala Gutta in the mixed doubles match to take a 2-0 lead in the tie.
Love Sports news?


Stay updated with the latest happenings.
Jan vs Rajiv

Jorgensen make Hyderabad wait for the semis spot
Hyderabad Hunters' wait for a semi-finals berth was made a little longer by Delhi Acers' Jan O Jorgensen.
The Danish shuttler defeated Rajiv Ouseph 11-5, 11-7 in the first Trump match of the day to take two points.
The win has equalled the scored of the tie to 2-2. Hunters need one more point to seal the semis spot.
13 Jan 2017

PBL: Hyderabad Hunters becomes fourth team to reach semis
Details

Schedule for the semi-finals matches
The two semi-finals will be played today at the Siri Fort Sports Complex in New Delhi.
In the first semi-final match, table toppers Awadhe Warriors will be up against Chennai Smashers, who finished on the third position in the table.
The second semi-finals will see Mumbai Rockets taking on Hyderabad Hunters.
The finals will be played on Saturday, 14 January.