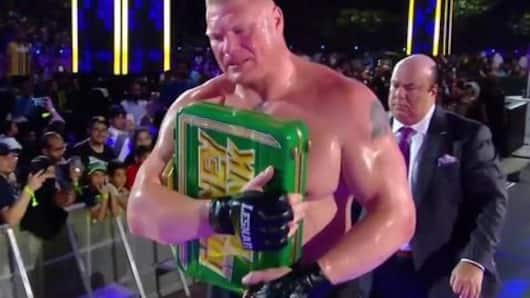 WWE: Instances where Brock Lesnar should cash-in his MITB contract
Superstar Brock Lesnar shocked the world when he won the Money in the Bank contract this year.
While he had promised the cash-in at the Super ShowDown pay-per-view in Saudi Arabia on Universal Champion Seth Rollins, he couldn't.
Since then, he has said he won't tell when he would cash-in.
In the same light, we analyze the possible instances he should cash-in.
At the biggest show of the summer
SummerSlam has been one of the favorite places for Lesnar. Notably, he has won a number of championships here.
With the show being one of WWE's four major pay-per-view events, it is likely he would fancy his chances here.
Although it is not sure who he would cash-in, going by his current rivalry, it's likely to be Rollins again, where the latter would lose.
The place where it all started
At Super ShowDown, Rollins spoilt chances of cash-in by Lesnar with a brutal beatdown.
However, it was last year, when Lesnar was left standing tall at the same place.
Chances are he won't let this go easy and could well cash in WWE's other show on November 1 at the same place.
The cash-in makes sense as it would result in a perfect payback.
Love Sports news?
Stay updated with the latest happenings.
Yes, notify Me
The beginning of the Road to WrestleMania
In case Lesnar plans to hold on to it long enough, the next ideal place would be the Royal Rumble next year.
A cash-in at the event would set the pace for WrestleMania 36, three months later.
Moreover, a successful cash-in, followed by the Royal Rumble winner's choice, could set up an interesting scenario and a great clash at the mega event.
At the Showcase of Immortals
Lesnar has been a regular face at WrestleMania for over six years now.
Moreover, he has had some top fights at the show.
There is no doubt he would like to put on a show and what better way it could be than to cash-in and win.
Remember, it was Rollins who did the same at WrestleMania 31.
Does a déjà vu await Rollins?
How old is Brock Lesnar?
Asked 2019-06-15 13:44:16 by Vivaan Lobo
Answered by NewsBytes
Lesnar is currently 41-year-old.
How many times has Lesnar won the Universal Championship?
Asked 2019-06-15 13:44:16 by Aaradhya Bose
Answered by NewsBytes
Lesnar is a two-time Universal champion.
How many World Championships has Lesnar won?
Asked 2019-06-15 13:44:16 by Aadhya Kapoor
Answered by NewsBytes
Lesnar is a four-time world champion.
Who is Lesnar married to?
Asked 2019-06-15 13:44:16 by Divya Chattopadhyay
Answered by NewsBytes
Lesnar is married to former WWE Diva Sable.