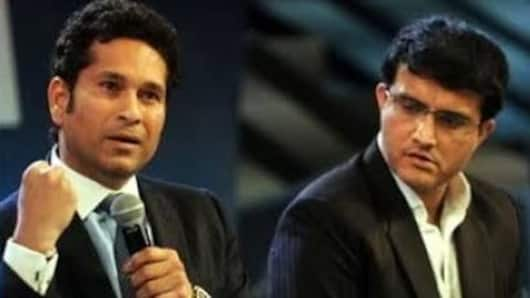 Here's what Ganguly and Tendulkar said about India-Pakistan match
The stage is all set for the biggest blockbuster of the ICC World Cup 2019, as arch-rivals India and Pakistan go head-to-head on Sunday.
With this being the seventh instance of the teams clashing in the tournament to date, India are the certain favorites.
However, legends Sachin Tendulkar, Sourav Ganguly, and others, have served a strong warning to India.
Here is what they said.
India should not consider themselves as favorites: Ganguly
Former skipper Ganguly has strongly warned India not to consider themselves as the favorites for this tie.
He also feels that it was this belief that led to their downfall in the 2017 ICC Champions Trophy final.
"I think they did that the last time in 2017 in the ICC Champions Trophy finals. It's going to be a great game of cricket," asserted Ganguly.
Ganguly believes India need to handle Mohammad Amir well
"In this World Cup 2019 team, Amir was nowhere in the picture. They had dropped him, he comes back and ends up being the leading fast bowler in the squad. That's what you get from a side like Pakistan," Ganguly said on Amir's presence.
Love Sports news?
Stay updated with the latest happenings.
Yes, notify Me
Tendulkar warns India to be wary of unpredictable Pakistan
Meanwhile, Tendulkar feels that Pakistan have a history to be the most unpredictable team of the tournament.
He also warned that India should not make the mistake of taking them lightly again.
"Every step that the Indian team takes forward, we would want to be 100% sure of what we are doing, and it is well thought and well planned," he quoted.
Kumble says consistency is the key to success
Meanwhile, Anil Kumble feels that while India-Pakistan is the marquee event of this tournament, Men In Blue need to maintain their consistency, which is the key to winning the World Cup.
"As soon as the ICC opened out the schedule and ticketing, within 15 minutes the match was sold out and that's the importance of an India-Pakistan match," said Kumble.
Playing against Pakistan puts an added pressure: Harbhajan Singh
Former Indian spinner Harbhajan Singh too said that the match against Pakistan presents a pressure situation.
He also stated that being arch-rivals, players from both countries give their best to perform the best and win.
"There is more pressure on the Indian players because we have a very good record in these games and we don't want to change that," Harbhajan opined.
India still favorites to win, Pakistan wary of their unpredictability
While the experts have given their verdict, the author feels that judging by the current form, India continue to be the favorites for this tie.
However, he also agrees with Tendulkar's opinion of Pakistan being unpredictable, as they do possess enough firepower in their arsenal to destroy India on any given day.
We are set for a cracker, provided the rain stays away.
When did Pakistan win the World Cup?
Asked 2019-06-16 01:11:36 by Vishal Mehra
Answered by NewsBytes
Pakistan won the World Cup in 1992.
When did India first win the World Cup?
Asked 2019-06-16 01:11:36 by Rishika Saxena
Answered by NewsBytes
India's first World Cup win was in 1983.
Did Sachin Tendulkar play the 2015 World Cup?
Asked 2019-06-16 01:11:36 by Anika Bose
Answered by NewsBytes
No, Sachin Tendulkar retired from ODI cricket in 2013.
What time is the Indo-Pak match?
Asked 2019-06-16 01:11:36 by Aaradhya Mehra
Answered by NewsBytes
The Indo-Pak World Cup 2019 match would be played on Sunday at 3 PM.