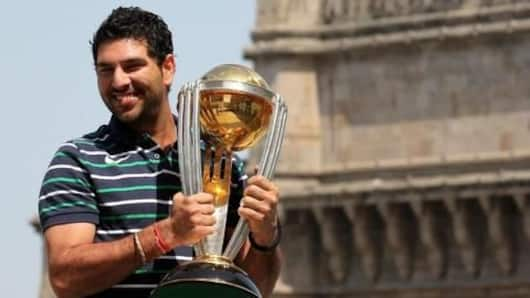 Yuvraj Singh seeks BCCI's permission to play overseas T20 leagues
Former Indian batsman Yuvraj Singh on Tuesday reportedly asked the BCCI for its permission to play in the overseas T20 leagues.
It comes a week after he announced his retirement from international and First-Class cricket.
Although the BCCI is yet to respond, it does not come as a surprise since he had stated that it was one of the factors behind his retirement.
Yuvraj wants to pursue freelance cricket
Yuvraj has said that he was calling time on his illustrious career to focus on T20 cricket as a freelancer.
It was understood that Yuvraj had plenty of offers, which was a major factor for him to announce his retirement.
It is to be noted that Indian players, who hold a BCCI contract, are barred from playing in overseas T20 leagues.
I want to play T20 cricket: Yuvraj
"I want to play T20 cricket. At this age I can manage to play some kind of fun cricket. I want to enjoy my life. It's been too stressful just thinking about my international career, performing and big tournaments like the IPL," Yuvi had said.
Love Sports news?
Stay updated with the latest happenings.
Yes, notify Me
Retired Indians can be granted BCCI's permission for overseas T20
As far as the BCCI is concerned, retired Indian players can be granted permission for overseas T20 cricket. Earlier, retired players like Virender Sehwag and Zaheer Khan were allowed to play in the T10 League in the UAE, following their retirement from the sport.
Yusuf and Irfan Pathan too had expressed the same desire
In another instance, active player Yusuf Pathan was granted a NOC to play in the Hong Kong T20 Blitz a couple of years ago.
However, the BCCI soon withdrew the NOC and called him back.
His brother Irfan Pathan too had applied for CPL draft earlier this year.
But, since he is an active First-Class cricketer, he was asked to withdraw his name.
Yuvraj made the right choice, but onus on BCCI
Now that Yuvraj has offers to play in foreign T20 leagues, while his Indian career looked bleak, the author feels that he made the right choice.
However, it remains to be seen if the BCCI grants him permission, as the board is known to be unpredictable at times.
Also, if granted permission, Yuvi needs to perform in the leagues like other freelancers.
How old is Yuvraj Singh?
Asked 2019-06-19 20:20:27 by Ajay Subramanium
Answered by NewsBytes
Yuvraj is 37-year-old.
Which state team did Yuvraj play for?
Asked 2019-06-19 20:20:27 by Reyansh Mehta
Answered by NewsBytes
Yuvraj played for Punjab in the domestic circuit.
Which was Yuvraj's last IPL team?
Asked 2019-06-19 20:20:27 by Cheshta Venkatesan
Answered by NewsBytes
Yuvraj's last IPL team was Mumbai Indians (MI) this year.
Will Yuvraj play IPL anymore?
Asked 2019-06-19 20:20:27 by Reyansh Trivedi
Answered by NewsBytes
No, Yuvraj has also retired from IPL.