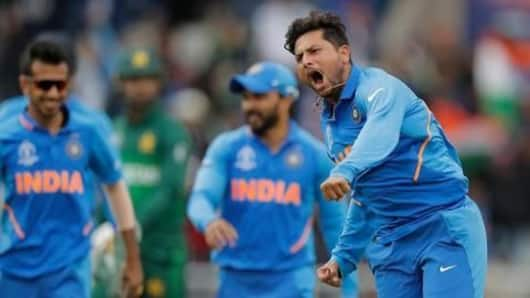 Meet Kapil Pandey, who helped Kuldeep Yadav overcome slump
India's chinaman Kuldeep Yadav endured a tough campaign in the Indian Premier League 2019.
Having claimed just four wickets in nine matches at a poor average of 71.50, Kuldeep was eventually dropped from KKR's playing XI.
Kuldeep was nervous as the ICC World Cup 2019 was fast approaching, and to overcome this slump, he gave a call to his childhood coach Kapil Pandey.
Kuldeep needed to get back to the basics: Kapil
Speaking exclusively to Hindustan Times, Kapil said that after he was dropped, he had a session with him.
Kapil revealed that there were some minor errors that had crept into his bowling action.
Further, regular international tours had deprived him of the basic drills and training to keep going.
As a result, he took the charge of getting the basics right.
I asked him to bowl round the wicket: Kapil
"He was mentally down. I asked him to bowl round the wicket. I knew, with his action he will naturally turn the ball more from the other side. As soon as he got his confidence back, I told him to switch to over," said Kapil.
Love Sports news?
Stay updated with the latest happenings.
Yes, notify Me
Kuldeep underwent rigorous training prior to World Cup
Kapil admitted that Kuldeep underwent rigorous training at Rovers club in Kanpur from 7 AM each day bowling for several hours.
After he started to get his rhythm back, he was asked to do the same from over the wicket.
While the process was tiring, both were adamant, and the outcome was sensational, resulting in a beautiful performance against Pakistan.
Kuldeep had started bowling flatter: Kapil
Kapil also said that the other problem with Kuldeep's bowling was that he had started bowling fast, but flat.
The pressure of playing in IPL made him experiment with his natural bowling style.
"I want to bowl fast, he told me before IPL. But, what he did during the tournament was bowl flat. If you don't flight the ball, it won't turn," Kapil added.
Kapil's tip for success in England
To script success in England, Kapil urged Kuldeep to follow a small trick.
He asked him to get his left arm high and use his shoulder more than his wrists.
"He did not have a firm grip on the ball. He needed to lock his wrists and use more shoulder. That way, he could generate pace, even while flighting the ball," suggested Kapil.
It is working so far for Kuldeep
It must be noted that Kuldeep's delivery which dismissed Fakhar Zaman was bowled at 80 km/h, higher than his average bowling speed.
It also worked against Australia. Although he did not get wickets, the flighted deliveries troubled David Warner from getting onto the backfoot and play.
Kuldeep seems to have found his mojo back, and if he could continue this, his success seems inevitable.
How old is Kuldeep Yadav?
Asked 2019-06-22 17:07:44 by Harini Malik
Answered by NewsBytes
Kuldeep is 24-year-old.
Where did Kuldeep grew up?
Asked 2019-06-22 17:07:44 by Aditya Malik
Answered by NewsBytes
Kuldeep was born and brought up in Kanpur.
When did Kuldeep start playing cricket?
Asked 2019-06-22 17:07:44 by Rajesh Jain
Answered by NewsBytes
Kuldeep started playing cricket at the age of 11.
Is this Kuldeep's maiden World Cup?
Asked 2019-06-22 17:07:44 by Amit Patil
Answered by NewsBytes
Yes, Kuldeep is playing his maiden World Cup.