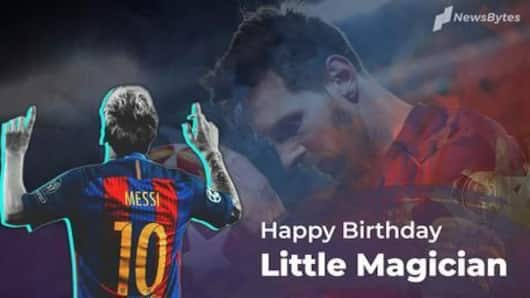 Happy Birthday Lionel Messi: Here're some of his unbreakable records
Argentine soccer superstar Lionel Messi is definitely one of the GOATs.
Playing for Barcelona, he made a name for himself by scoring goals, winning matches, lifting trophies, scripting records, and much more.
As he celebrates his 32nd birthday today, he seems far from done.
And here we have a look at some of his records which might never get broken.
Most goals in La Liga
Messi is the King of La Liga. Having played at Camp Nou for almost 15 years, he has scored 419 La Liga goals in 452 appearances.
With age on his side, the goal tally is bound to increase further. On the second spot is Cristiano Ronaldo with 311 goals.
He also scripted another record when he scored 50 goals in a single season (2011-12).
Youngest player to win multiple Ballon d'Ors
Messi has won a record five Ballon d'Or titles, in his career, to date.
He was only 22 when he won his first in 2009, and then went on to win four consecutive titles by the age of 25.
He became the only player to win four in a row in the history of football.
Not sure if anyone can match this feat.
Love Sports news?
Stay updated with the latest happenings.
Yes, notify me
Scoring in most consecutive league matches
Messi is considered to be a goal-scoring machine.
While he may have changed his gameplay in the last couple of years, he is still scoring freely.
But what he did in 2012-13 was truly amazing, as he scored 33 goals in 21 consecutive La Liga games. Eventually, it was Atletico Madrid, which managed to hold him off to break his goal-scoring streak.
Most goals in a calendar year
There have been numerous instances where Messi has finished as the top scorer in a single season.
However, his best year came in 2012 when he managed to score an astounding 91 goals, with both Barcelona and Argentina.
Out of 91 goals, 79 came while playing for his club.
As he broke Gerhard Muller's record of 85.
Does it seem even real?
Most goals for an European club
Messi has been playing for Barcelona for almost 15 years, since his childhood.
Similar to what we mentioned above, his goal tally for Barca is also a record for the most goals scored for an European club (603).
He once again eclipsed Muller's record of 525 goals in 574 matches for Bayern Munich.
The question of loyalty is a debatable topic in football now.
When did Lionel Messi join Barcelona?
Asked 2019-06-24 14:30:11 by Divya Mehta
Answered by NewsBytes
Messi joined Barcelona in 2001.
Which was Messi's first-ever club?
Asked 2019-06-24 14:30:11 by Vihaan Sarin
Answered by NewsBytes
Messi's first-ever club was Newell's Old Boys.
How many goals has Messi scored for Argentina?
Asked 2019-06-24 14:30:11 by Rajesh Kapur
Answered by NewsBytes
Messi has scored 68 goals in 134 matches for Argentina.
Who is Messi married to?
Asked 2019-06-24 14:30:11 by Dhruv Saxena
Answered by NewsBytes
Messi is married to Antonella Roccuzzo since 2017.