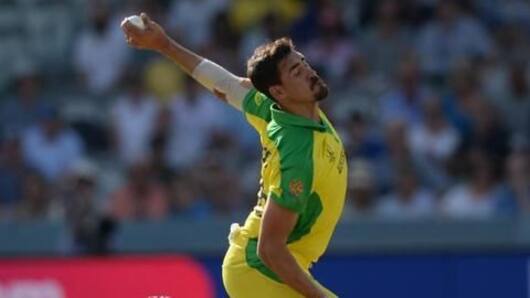 Mitchell Starc reveals the moment which led to Australia's turnaround
Australia came up with a prolific performance to overcome New Zealand in the ICC World Cup 2019 on Saturday.
Despite scoring only 243/9, the title holders managed to defend the total, courtesy of some amazing bowling by pacer Mitchell Starc.
Meanwhile, Starc believes that Australia's turnaround happened following their loss to India earlier this month.
Here is more on what Starc said.
Australia have been claiming wickets regularly post India loss
Starc mentioned the fact that Australia have picked regular wickets post their loss to India.
Also, he said that rather than attacking more with the ball, it is their execution that has been way better.
Starc admitted that his side was a little bit off during the game against India, which led to their only loss of the tournament.
Starc believes the group has continued to improve
"I think the turning point was probably that Indian game where we had a good chat as a bowling group and a batting group and we've just continued to improve as a whole group of players from that game," reflected Starc, post triumph over Kiwis.
Love Sports news?
Stay updated with the latest happenings.
Yes, notify me
Australia still has room for improvement, feels Starc
Despite the win, Starc felt that Australia should improve their gameplay in the knock-outs.
He also admitted that despite the fine all-round show so far, there is still room for improvement.
"We have got to play our best game in the semi now and hopefully better that in the final, and that's what tournament play is all about," he concluded.
We know what we want to do: Starc
"We know what we want to do. It goes back to the execution. It's that clearness as a whole group out on the field is what's probably instilling that confidence in the bowler to execute what they want to do," concluded Starc.
Starc could be key to World Cup success, once again
Starc is enjoying the form of his life.
Notably, he was their top wicket-taker in the 2015 World Cup, guiding them to the title win.
So far, he has already gone past his 2015 tally and is Aaron Finch's go-to bowler.
It is sure that Starc would leave no stone unturned to help Australia win their sixth title.
How old is Mitchell Starc?
Asked 2019-06-30 18:20:35 by Chirag Nair
Answered by NewsBytes
Starc is 29-year-old.
How many World Cups has Starc played?
Asked 2019-06-30 18:20:35 by Shaurya Tata
Answered by NewsBytes
Starc has played two World Cups to date.
When did Starc made his ODI debut?
Asked 2019-06-30 18:20:35 by Devansh Mehra
Answered by NewsBytes
Starc made his ODI debut in October 2010.
Who do Australia play in semis?
Asked 2019-06-30 18:20:35 by Rakesh Jaiteley
Answered by NewsBytes
Australia's semis opponents have not been decided yet.