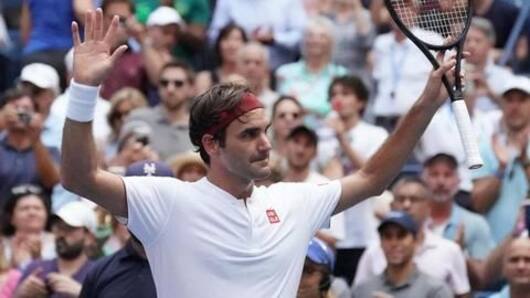 Wimbledon: Federer explains why seeded players struggled in round one
20-time Grand Slam Champion Roger Federer had a shaky start to his Wimbledon 2019 campaign against South Africa's Lloyd Harris.
After being a set down, Federer bounced back to win three in a row.
Interestingly, there were quite a few seeded players who struggled in the first round of the Slam.
In the same light, Federer gave his reasoning behind it.
Federer's vintage tactics earn him a hard-fought win over Harris
Analyzing Federer's match, it came as a surprise as he found himself down 3-6 in the opening set.
However, Federer applied his classic grass court tactics to clinch three consecutive sets (6-1, 6-2, 6-2).
Following the match, he also addressed the situation as three seeded men in the top ten (Stefanos Tsitsipas, Alexander Zverev and Dominic Thiem) crashed out.
Margins are slim, reckons Federer
"It is always going to be a bit of a story. For that many guys to lose early, yeah, you add Thiem to it, yeah, it is just too many. But I guess it happens. Margins are slim," said Federer post his victory.
Love Sports news?
Stay updated with the latest happenings.
Yes, notify me
Federer believes the opening week tests player's skills
While Federer addressed the situation that he struggled in the opening game, he added adjusting quickly on the grass is difficult and that is why the opening week of the Slam tests player's skills.
"Like I explained, I think this first week at Wimbledon really tests your, you know, different skill set and your nerves a little bit to that extent, too", said Federer.
Federer seems surprised with players struggling so much
"Let us be honest, maybe also especially Sascha and Dominic, it is not their favorite surface. So that they can struggle, maybe is a little bit normal. Dominic did have a tough draw. So, it can happen. But, it's definitely surprising," concluded Federer.
Seeds knocked out in opening round across genders
Men: Alexander Zverev (6), Stefanos Tsitsipas (7), Gael Monfils (16), Dusan Lajovic (32]), Dominic Thiem (5), Denis Shapovalov (29). Women: Naomi Osaka (2), Aryna Sabalenka (10), Markéta Vondroušová (14), Caroline Garcia (23), Daria Kasatkina (29), Donna Vekic (22), Garbine Muguruza (26), Lesia Tsurenko (32).
How old is Roger Federer?
Asked 2019-07-04 14:50:30 by Aaradhya Mehta
Answered by NewsBytes
Federer is 37-year-old.
How many Grand Slams has Federer won?
Asked 2019-07-04 14:50:30 by Devansh Kapur
Answered by NewsBytes
Federer has won 20 Grand Slams to date.
How many Wimbledon titles has Federer won?
Asked 2019-07-04 14:50:30 by Ankita Mehra
Answered by NewsBytes
Federer has won eight Wimbledon titles.
When was the last time Federer won the Wimbledon?
Asked 2019-07-04 14:50:30 by Hemant Mehta
Answered by NewsBytes
Federer's last Wimbledon title win came in 2017.