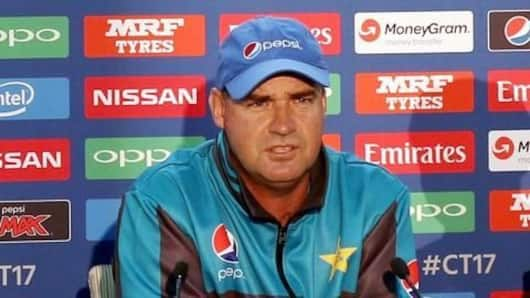 Pakistan coach urges ICC to reconsider NRR rule: Here's why
Pakistan were ousted from the ICC World Cup 2019 on Friday.
Although Pakistan beat Bangladesh in their final tie, it wasn't enough. Both Pakistan and New Zealand ended up with 11 points but Kiwis had a better Net Run Rate (NRR) and hence they qualified.
In the same light, coach Mickey Arthur expressed his disappointment over this rule and urged ICC to reconsider it.
Arthur prefers head-to-head over Net Run Rate
Arthur stated that rather than the Net Run Rate of the tournament, he feels the head-to-head encounter is a better qualification criteria.
It must be noted that had the head-to-head factor come into play, Pakistan would have qualified for the semis.
In the case of the NRR, Pakistan needed to beat Bangladesh by a mammoth margin of 309 runs to qualify for the semis.
Arthur feels that one bad game destroys the campaign
Arthur further lamented that the disadvantage with the rule is that after a bad game, it becomes a tedious task for the team to recover their NRR.
However, Arthur expressed his happiness on the victories Pakistan salvaged in this tournament.
"It is nice for us to sit here and know we have beaten two of those teams [England and New Zealand]," said Arthur.
Love Sports news?
Stay updated with the latest happenings.
Yes, notify me
On the intent of scoring 400 against Bangladesh
"The first 10 were expected to be quite crucial. You couldn't have just walked in there and gone I think we're going to get 400. Getting 400 was a platform. You needed to get a good base, and you needed to move," opined Arthur.
Pakistan's heavy loss against Windies cost them
Taking a cue from Arthur's statement, it can be concluded Pakistan's seven-wicket defeat to Windies destroyed their chances. It was also followed by a mammoth 89-run defeat to India in a rain-truncated tie. And unfortunately, their match against Lankans got washed away.
Pakistan's hopes were dashed following Fakhar Zaman's admission
Arthur said that while the intent was to score 400, as they needed a winning margin of 309 to qualify, following Fakhar Zaman's dismissal, it was over.
"The message we got from Fakhar [Zaman] when he came back in the change room was it was slow. Balls going into the wicket were quite tough. Then, we realized we just wanted to win," he concluded.
Is head-to-head over NRR a better idea?
While Arthur mentions that head-to-head is better suited, the author doesn't agree with him.
He backs the NRR rule, as it respects the intent of the teams to win by a big margin.
Notably, the NRR takes into account the team's overall performance in the tournament.
Before the tournament started, everyone knew about the qualification rule and Pakistan should have managed their campaign better.