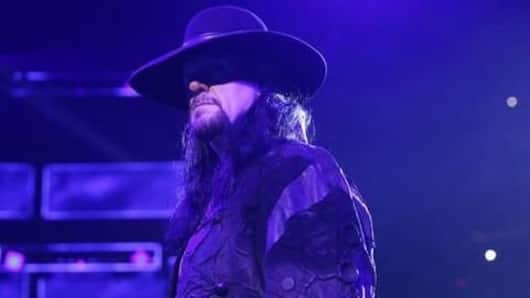 WWE: Analyzing possible opponents for The Undertaker at SummerSlam 2019
The Undertaker is one of the GOATs of WWE.
In his long and illustrious career, he has won it all.
Aged 54, a time when most of the superstars are usually done, The Deadman is showing no signs of slowing down.
Being rumored for a match at SummerSlam next month, let us analyze a few possible opponents for him.
Root of all Evil
Now, Aleister Black is a guy whose persona is entirely similar to that of The Undertaker.
He has been teasing a number of promos of late, some being cryptic.
While it is difficult to judge as to who he is challenging, it would be of no surprise if it is The Deadman.
Least to say, this would also hand him a mammoth push.
Let him in
He is one such guy who has already faced The Deadman at the Grandest Stage, but was on the receiving end as he lost.
Although Bray Wyatt has no reason to take it against his stride, owing to his creepy mentality, he could once again pounce on The Deadman.
While The Undertaker won't mind facing him again, whose fate would shine high?
Love Sports news?
Stay updated with the latest happenings.
Yes, notify Me
The Scottish Psychopath
Drew McIntyre has made tremendous progress in the past few years, from being a jobber to headlining a main-event.
Also, his current tag-team action against The Undertaker at Extreme Rules could prove to be extremely vital for his career.
Thus, chances are that he could challenge The Deadman at SummerSlam.
Moreover, a win over him would give him a monster push.
The Big Dog
Well, not again! But, it is not bad either.
Roman Reigns has already beaten Taker in the past, and that too at the Grandest Stage, WrestleMania.
Thus, he has nothing else left to prove. But, Undertaker might not be done with him.
So, he might have to take The Deadman out once and for all.
Needless to say, this would further help his popularity.
The Best in the World
This could be another one for the ages.
They had done it in the past at WrestleMania 32, inside Hell in a Cell, while Shane McMahon lost.
Moreover, being a heel now could infuriate him to go after The Deadman to have a chance at winning, with McIntyre on his side.
However, Undertaker will have a back-up plan, thus making it interesting.
When did Undertaker make his WWE debut?
Asked 2019-07-10 16:05:56 by Chirag Rathore
Answered by NewsBytes
Undertaker made his WWE debut in 1990.
How many World Championships has Undertaker won?
Asked 2019-07-10 16:05:56 by Arnav Chauhan
Answered by NewsBytes
Undertaker has won seven world championships to date.
How old is Shane McMahon?
Asked 2019-07-10 16:05:56 by Aanya Jindal
Answered by NewsBytes
Shane is 49-year-old.
Is Shane McMahon the brother of Stephanie McMahon?
Asked 2019-07-10 16:05:56 by Dhruv Lobo
Answered by NewsBytes
Yes, Shane and Stephanie are brothers and sisters.