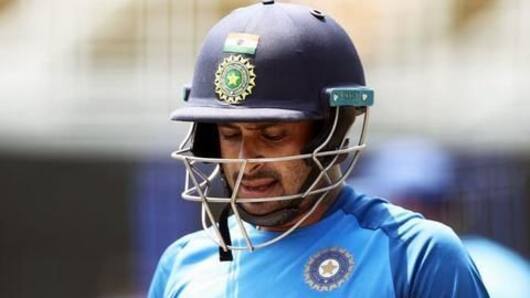 Here's what MSK Prasad said on Rayudu's 3D tweet
When the Indian team was announced for the ICC World Cup 2019, it sent shockwaves as Vijay Shankar was picked instead of veteran middle-order batsman Ambati Rayudu.
The BCCI chief selector MSK Prasad had weighed on Shankar being a three-dimensional player.
This had also seen Rayudu post a sarcastic tweet, as he later announced his retirement.
In the same light, here's what Prasad said.
I really enjoyed the tweet, says MSK Prasad
"Just ordered a new set of 3D glasses to watch the World Cup," tweeted the 33-year-old Rayudu post his snub, back in April 2019.
Prasad was asked to comment on the same and he responded, "It was a lovely tweet. Very timely one. I really enjoyed the tweet. It was fantastic. I don't know how it struck him."
Rayudu announced his retirement after being ignored twice
Rayudu, who was on stand-by list for the ICC World Cup 2019, was overlooked on two occasions.
Despite two major injuries in the squad, Rayudu was ignored as the selectors picked Rishabh Pant and Mayank Agarwal respectively.
This saw the player announcing his retirement from all forms of the game.
Rayudu didn't state any reason behind this decision.
Love Sports news?
Stay updated with the latest happenings.
Yes, notify me
Being ignored left Rayudu absolutely gutted
Many felt that Rayudu was treated in an unfair manner by the selectors.
It seemed to be an emotional decision from the veteran batsman, who must have been gutted after how he was ignored.
Keeping a player on a stand-by and then selecting someone (Mayank), who wasn't even a probable, seemed as a bizarre move by the Prasad-led committee.
However, Prasad defended the decision.
Decision was completely devoid of any bias, says MSK
"When we pick someone and he does well, we feel so happy for him. Similarly when somebody who goes out in this way, the selection committee also feels for it. But having said that, with regards to the decision taken, it has been completely devoid of any bias or any favoritism into why we picked Vijay Shankar, Rishabh Pant or Mayank Agarwal," said Prasad.
Prasad highlights the reasons for Rayudu's snub
"When he failed the fitness [Yo-Yo] test last year, this selection committee backed him and we put him through a fitness programme. Once he came into the side, we backed him but due to certain permutations and combinations, we couldn't pick him," Prasad said.
Selectors didn't trust Rayudu?
Rayudu was a part of the Indian ODI team since 2018 as he was backed to be the number four.
He did show his worth at home and had a decent series in New Zealand, but perhaps the selectors didn't trust him completely to deliver in England and Wales during the World Cup.
This may have led the selectors to ditch him completely.