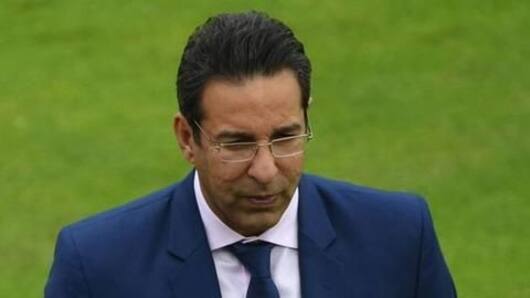 Wasim Akram humiliated and harassed at Manchester Airport: Details here
Legendary Pakistan fast bowler Wasim Akram shared a horrific experience which he endured in England.
The present day commentator took to Twitter to highlight the ordeal he had to undergo at the Manchester Airport, when Akram was mistreated by the authorities.
The Pakistani great was recently a part of the commentary team in the ICC World Cup 2019.
Here's more about this incident.
Akram harassed by authorities over his insulin
Akram stated that the authorities behaved rudely with him and questioned him in a harsh manner.
Akram, who travels around the world with his insulin, was asked to take out the same and keep it in the travel cold-case before being directed to dump them in to a plastic bag.
This didn't go well with the diabetic Akram.
Akram shares the experience
Very disheartened at Manchester airport today,I travel around the world with my insulin but never have I been made to feel embarrassed.I felt very humiliated as I was rudely questioned ordered publicly to take my insulin out of its travel cold-case dumped in to a plastic bag pic.twitter.com/UgW6z1rkkF

— Wasim Akram (@wasimakramlive) July 23, 2019
Love Sports news?
Stay updated with the latest happenings.
Yes, notify me
Akram was diagnosed with Type I diabetes in 1997
Former pacer Akram was diagnosed with Type I diabetes in 1997.
Since then he continued to play cricket while taking multiple insulin injections.
On top of that, he has to carry the medication in cold cases in order to preserve them.
When the authorities asked him to take his medication out in a rude manner, Akram was left infuriated.
Akram doesn't want different treatment
I do not believe I should have been treated differently from anyone else. I just believe there should be a standard of care when dealing with all people. I understand there are proper safety precautions but that doesn't mean people should be humiliated whilst undergoing them.

— Wasim Akram (@wasimakramlive) July 23, 2019
In 2015, Sangakkara was harassed at Heathrow Airport
Akram isn't the first cricketer to be harassed by authorities while travelling.
In 2015, former Lankan great Kumar Sangakkara was harassed by authorities at the Heathrow Airport in London.
He had also pointed out the rude behavior of an immigration officer and said he lacked basic manners and courtesy.
Sanga also added that every well intentioned traveller deserves respect.
Airport a habitual place for harassment in different forms
In 2016, Cricket South Africa accused Australian media of "harassment" after a reporter attacked the team manager and breached security protocol at Adelaide.
"The 'reporter' at the airport disrespected us and continued to harass Faf du Plessis for comment. He was advised to move three times, and did not adhere to this request, He had no official accreditation," SA team manager Mohammed Moosajee said.