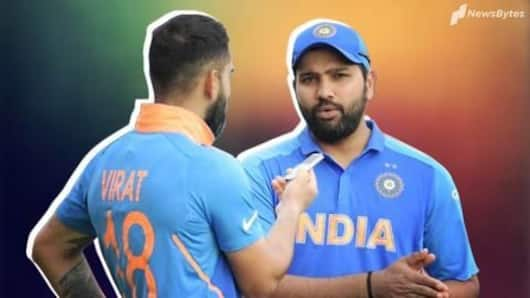 After Virat, has Rohit Sharma unfollowed Anushka on Instagram too?
When celebrities choose to not say much, their social media handles speak for them. The same happened with cricketer Rohit Sharma, who is apparently locked in a tussle with skipper Virat Kohli.
While BCCI wants to keep the feud under wraps, Rohit's Instagram activity is making it difficult.
Not only Virat, but Rohit has also unfollowed the captain's wife actress Anushka Sharma on Instagram.
Rohit and Virat haven't been getting along for some time
According to a report in Mumbai Mirror, problems between Rohit and Virat started a few years ago when the former left the management company with which the skipper was associated with. Rohit's colleague Shikhar Dhawan also exited the organization.
Cut to World Cup 2019, both the players put up their fighting faces and took on opponents till India lost in semi-finals.
Was India really united during World Cup?
There have been murmurs that the Indian Cricket Team was divided throughout World Cup. Team Rohit and Team Virat disagreed on a number of issues, including the selection of players.
As Rohit displayed his top-notch form, hitting one century after another, the voices of those who supported him grew louder.
After India lost the crucial match to New Zealand, the problems increased.
Love Sports news?
Stay updated with the latest happenings.
Yes, notify me
On reports of rift, bowling coach said disagreements are obvious
The issues increased to a point that one group is mooting the idea that Virat should step down from captaincy.
Speaking on these rumors, India's bowling coach Bharat Arun said disagreements are genuine.
"Everyone voices his opinion. But at the end of the day, the other person's view is respected and a collective decision is taken," Arun said in an interview.
Further, Arun said Virat and Rohit share a cordial relationship
"Rohit often runs up to Kohli to discuss things. They get along very well, share great admiration for each other's ability. Kohli led the side well, is maturing as a captain and it's nice that he has Rohit for support," Arun added.
While Rohit unfollowed Virushka, the skipper didn't do the same
However, Rohit's actions paint a different picture. It seems he wants to cut ties with Virat and Anushka. Interestingly, Virat still follows his teammate on Instagram.
To recall, when Virat and Anushka got married, Rohit had one of the best responses. Congratulating the couple, he asked Anushka to keep "the surname".
But, as time passed, the equation between both "Sharmas" certainly changed.