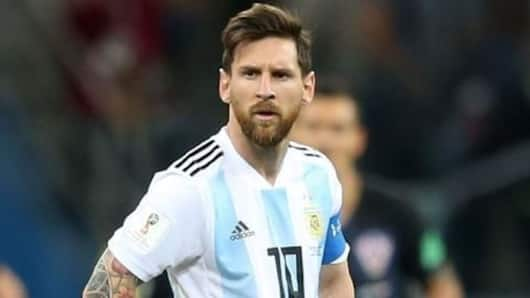 Lionel Messi banned for 3 months by CONMEBOL: Details here
Argentine superstar Lionel Messi has been banned for three months by the The South American Football Confederation (CONMEBOL) following his criticism of the governing body during the Copa America 2019 last month.
Messi will not be able to play for Argentina for the next three months, while he has also been fined $50,000 by the body.
Here's more about it.
Messi criticized CONMEBOL for being corrupt
It all happened last month during the Copa America 2019 in Brazil, where Messi twice criticized CONMEBOL for being corrupt.
The first incident happened during their semis clash against arch-rivals Brazil, where they were denied two penalty claims, leading to Messi's outburst.
It was followed by another one, in the game against Chile, where he was red-carded by the referee.
Copa America was a set up for Brazil: Messi
Messi "We shouldn't have been part of this corruption. The Copa America is all setup for Brazil" pic.twitter.com/xB3ZSUkLgR

— The Pep (@GuardiolaTweets) July 7, 2019
Love Sports news?
Stay updated with the latest happenings.
Yes, notify me
Messi breached articles 7.1 and 7.2 of disciplinary regulations
CONMEBOL did not reveal as to why Messi is being punished for.
However, in its official statement, it did state that he had breached articles 7.1 and 7.2 of the disciplinary regulations.
While Article 7.1 stands for "offensive, insulting behavior or making defamatory protests of any kind", Article 7.2 is for "breaching the decisions, directives or orders of the judicial bodies".
Messi to miss three international friendlies
While the Little Magician has been handed a three-month ban, it is hardly going to make any impact as Argentina are not scheduled to play big matches during this period.
As of now, they are scheduled to play international friendlies against Chile (away) and Mexico (home) on September 6 and 11, followed by another friendly against Germany (away) on October 10.
Messi to be back for World Cup Qualifiers in November
As per his current suspension, it's due to get over before November.
It is then Argentina begin their 2022 FIFA World Cup Qualification campaign.
However, it is to be noted that Messi was red-carded, in his last international outing against Chile in Copa America.
Thus, he would be missing the opening game of the qualifiers, before returning for the second.
Messi should have instead appealed against referring decisions
Messi's ban doesn't come as a shock, as it was evident that CONMEBOL will take an action, especially following his outburst.
Moreover, the author feels that a player like Messi should understand what not to speak.
Instead of the outburst, he should have calmly appealed against the poor referring in Copa America to CONMEBOL.
How old is Lionel Messi?
Asked 2019-08-03 12:57:41 by Pranav Kapoor
Answered by NewsBytes
Messi is 32-year-old.
When did Messi join Barcelona?
Asked 2019-08-03 12:57:41 by Dhruv Lobo
Answered by NewsBytes
Messi joined Barcelona in 2001.
How many goals has Messi scored for Argentina?
Asked 2019-08-03 12:57:41 by Muhammad Mehta
Answered by NewsBytes
Messi has scored 68 goals in 136 matches for Argentina?
Has Messi won a silverware with Argentina?
Asked 2019-08-03 12:57:41 by Hemant Pillai
Answered by NewsBytes
Messi won the Olympic Gold in 2008 with Argentina.