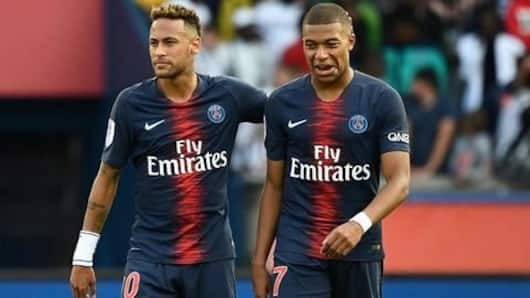 Here's what Mbappe said about Neymar's transfer rumors
Brazilian superstar Neymar is reportedly unhappy playing for French champions Paris Saint-Germain (PSG).
He is looking for a different challenge, possibly once again with Barcelona.
While nothing concrete has materialized yet, the football fraternity is split on whether Neymar should leave or stay put in Paris.
Meanwhile, his PSG team-mate Kylian Mbappe feels he should stay.
Here is what Mbappe said.
Neymar's personal life in a turmoil
Neymar is currently enduring a tough time in his personal life.
In June, he was accused by a woman that he had raped her in a hotel in Paris.
Following an investigation, the charges were dropped owing to lack of evidence.
However, he is yet to find his mental peace, as he looks to start concentrating on his career again.
Neymar has largely remained injury-prone at PSG
Since moving to PSG from Barca in 2017, Neymar has managed to score 51 goals in 58 matches. However, he got injured on a number of occasions and has not been able to deliver his services in crucial matches.
Love Sports news?
Stay updated with the latest happenings.
Yes, notify me
Mbappe does not want Neymar to leave PSG
Current PSG striker Mbappe has expressed his love for Neymar and in no case wants him to leave the French capital.
He also admitted that Neymar is a brilliant player and a valuable asset for the club.
"I don't want him to leave the team, obviously. I want him to stay," admitted Mbappe.
Mbappe hails Neymar as a brilliant player
"He is still the same Neymar. We all know he is in very special circumstances. However, he is training with us and he is still performing his best, which is not unusual, and after all, he is a very good player," added Mbappe.
Neymar should consider a move if he is unhappy
As the speculations continue regarding his rumored move out of PSG, the author feels that in case he is unhappy playing for the club, be it for whatever reason, there is no point continuing.
It clearly seems that his heart is with Barca, and provided he gets an offer, it would be wise on his part to make the move back.
How old is Neymar?
Asked 2019-08-03 16:41:28 by Aarav Verma
Answered by NewsBytes
Neymar is 27-year-old.
Which was Neyamr's first club?
Asked 2019-08-03 16:41:28 by Aadhya Rathore
Answered by NewsBytes
Neymar started his senior club career with Brazilian club Santos.
How many goals did Neymar score for Barca?
Asked 2019-08-03 16:41:28 by Parakram Chauhan
Answered by NewsBytes
Neymar scored 105 goals in 186 matches for Barca.
How many goals has Neymar scored for Brazil?
Asked 2019-08-03 16:41:28 by Vihaan Chauhan
Answered by NewsBytes
Neymar has scored 60 goals in 97 matches for Brazil.