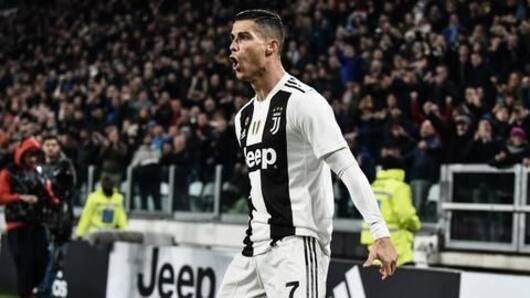 Cristiano Ronaldo explains how did the famous 'Siiii' celebration originate
Portuguese football superstar Cristiano Ronaldo is considered as one of the GOATs of the sport.
With his flawless ability to score a goal in almost every match, Ronaldo has proved why he is a five-time Ballon d'Or winner.
Also, he has notably come up with an iconic celebration, following a goal that he scores.
But, ever wonder where did it come from? Ronaldo explains.
The celebration came out naturally and he enjoyed doing it
Ronaldo explained that it was in 2013 where he came up with the celebration.
Real Madrid were up against Chelsea in a friendly in USA.
After scoring a goal, the celebration came out naturally.
He enjoyed the celebration and started doing it.
"I saw that the fans liked it and that they'd remember it, so I carried on doing it," said Ronaldo to Soccer.com.
Ronaldo would have loved to play with Eusebio
Every sportsperson has an idol from the sport he plays and wishes to play or has played with him at a point in his career.
Ronaldo too was asked the same question, and he picked a legend from his country, in the form of Eusebio.
"I will choose one from my country, passed away a few years ago: Eusebio," he said.
Love Sports news?
Stay updated with the latest happenings.
Yes, notify me
Eusebio is one of the symbols of Portugal: Ronaldo
"He is one of the symbols of Portugal, he was an amazing person, he died a few years ago, but I wish I could have played with him in the national team," Ronaldo further cleared the air on Eusebio being his favorite idol.
Ronaldo backs Juventus to win UCL within 2 years
Currently playing for Juventus, Ronaldo has made an instant impact in his opening season, winning two trophies.
Ronaldo reckoned that they should win the UCL within a year or two.
"It will be because of our work ethic and because of the way the club is being set up. They have all of the ingredients to win it," Ronaldo told Marca.
Ronaldo eyes strong start to Serie A
Ronaldo is currently eyeing a strong start in the Serie A with Juventus, who are scheduled to play Parma on August 24.
Their next encounter is against Atletico Madrid in the International Champions Cup (ICC) as a part of their pre-season tour.
While they have had a poor start in their pre-season so far, they would aim to finish it on a high.
How old is Cristiano Ronaldo?
Asked 2019-08-06 18:42:49 by Chirag Nair
Answered by NewsBytes
Ronaldo is 34-year-old.
Is Ronaldo married?
Asked 2019-08-06 18:42:49 by Saanvi Rathore
Answered by NewsBytes
No, Ronaldo is not married yet.
How many goals did Ronaldo score at Manchester United?
Asked 2019-08-06 18:42:49 by Shreya Das
Answered by NewsBytes
Ronaldo scored 118 goals at United.
How many years did Ronaldo play at Real Madrid?
Asked 2019-08-06 18:42:49 by Anika Saxena
Answered by NewsBytes
Ronaldo played for nine years at Madrid.