Sports
England must learn to play spin bowling: Trevor Bayliss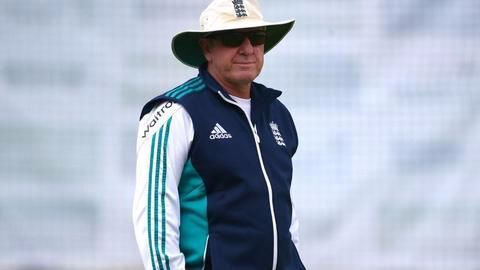 England cricket coach Trevor Bayliss said that England batsmen need to learn to play spin bowling.
He said, "We're certainly not world-class players of spin."
Having lost 86 wickets in the tour to spin bowlers, he said that it was disappointing- the way the series has ended and there was a lot of scope of improvement.
In context:
England's performance during long Indian tour
Details

England cricket team tours to India
The English cricket team visited India for a long tour comprising of five tests, three ODIs and a three-match T20 series from 9 November to 1 Feb'17.
The visitors lost the test series 4-0, with one test-match ending in a draw.
Indian team defeated England in both ODI and T20 series.
England won just two of the 11 matches they played in the tour.
02 Feb 2017

Our worst bowling in two and half years: Morgan
Captain of England's shorter format teams, Eoin Morgan, has said that the performance put by English batsmen was the worst in last two-and-half years.
Speaking at post match conference after the final T20 game, he said, "I can't put my finger on it. We haven't produced a batting performance as bad as that in two and a half years."
Love Sports news?


Stay updated with the latest happenings.
Captain lauds bowlers over the batsmen

Captain Morgan went on to say, "We pride ourselves on our batting and it's been our strong suit for a long time but our bowlers have outperformed our batters." He also said that they weren't good enough to win the series.
02 Feb 2017

England must learn to play spin bowling: Trevor Bayliss
Lot of work to do: Bayliss

Bayliss said that the players played well but there was a lot of work that is needed. He said, "We've played some good cricket but they realize that they've got a lot of work to do if they want to compete with India in India."