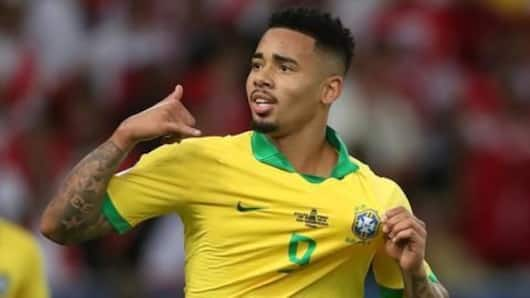 Gabriel Jesus fined $30,000 for Copa America outburst: Details here
Manchester City and Brazil striker Gabriel Jesus was fined $30,000 by CONMEBOL following his outburst during the final of the 2019 Copa America last month.
Besides the fine, he has also been handed a two-month international suspension.
It was last week when Argentine superstar Lionel Messi too was fined and banned for three months following his outburst against the tournament officials.
Here's more.
Jesus fined and suspended by CONMEBOL
Gabriel Jesus suspended for two months (from international games) and fined $30,000 by CONMEBOL for his reaction to being sent off in Copa América final

— Jack Lang (@jacklang) August 7, 2019
Jesus was furious after being sent off in the final
It all happened during the final of the Copa America, where Brazil was facing Peru.
It was in the 70th-minute mark when Jesus was shown the second yellow card of the match, resulting in him being sent off.
Following his dismissal, he was furious as he gestured directly towards the referee and pushed the VAR equipment in the sidelines.
He was also spotted crying.
Love Sports news?
Stay updated with the latest happenings.
Yes, notify me
Jesus and CBF can appeal against CONMEBOL decision
Although CONMEBOL has fined and suspended him for now, Jesus and Brazil Football Confederation (CBF) are free to appeal against the decision.
However, as of now, Jesus is all set to miss two friendlies against Colombia and Peru on September 7 and 11.
He could also miss out on a couple of games in October, which are yet to be announced.
Messi too banned for 3 months by CONMEBOL
Last week, Messi too suffered a similar fate when he was fined $50,000 by the South American governing body.
The body also banned him from international football for three months, as he is set to miss three Argentine friendlies.
Messi's outburst involved accusing the governing body and the match officials of being corrupt, claiming that that the tournament was a set up for Brazil.
Footballers should learn to appeal instead of accusing officials
While it is hard to see two top players from top football nations being handed fines and suspensions, the author agrees with CONMEBOL's decision.
We also believe that big players like Jesus and Messi should better know what and what not to say on big platforms.
Moreover, there is an order in place for everything.
So, instead of an outburst, they should have appealed.
How old is Gabriel Jesus?
Asked 2019-08-08 20:28:07 by Anonymous
Answered by NewsBytes
Jesus is 22-year-old.
How many goals has Jesus scored for Brazil?
Asked 2019-08-08 20:28:07 by Anonymous
Answered by NewsBytes
Jesus has scored 18 goals in 35 matches for Brazil.
When did Jesus join Manchester City?
Asked 2019-08-08 20:28:07 by Anonymous
Answered by NewsBytes
Jesus joined City in 2017.
How old is Lionel Messi?
Asked 2019-08-08 20:28:07 by Anonymous
Answered by NewsBytes
Messi is 32-year-old.