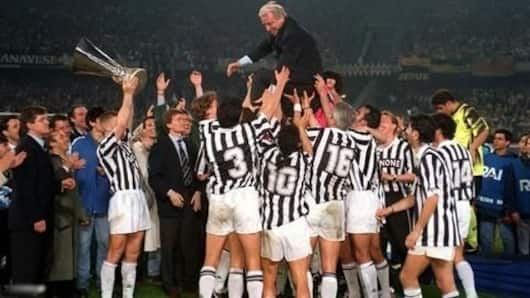 A look at all-time records scripted by Juventus
There was a time when Italian football was a global phenomenon.
While the charm has declined in the past few years, there are still a number of top football clubs in the nation.
Currently, the most consistent and dominant Italian club of all is Juventus.
Having won record 35 Serie A titles, they have undoubtedly posted some all-time records.
We take a look.
41,495 crowd witness Juventus get past Inter Milan
Over the years, Juventus have played their home matches across five stadiums in Turin.
Their current home ground, Allianz Stadium, was opened in 2011 and has a capacity of 41,507.
While the stadium is yet to witness a capacity crowd, it's record attendance to date is 41,495 against Inter Milan, in December 2018, during a Serie A tie, which the hosts won 1-0.
Alessandro Del Piero: The favorite goal-scoring son of Juventus
Well....This is a no brainer here.
One of Italy's greatest footballers and legendary goal-scorer is from Juventus, in the form of Alessandro Del Piero.
Having played in Turin for 19 seasons, he scored 290 goals at the club in 705 matches.
As things stand now, this record seems to be unbreakable, as no current player features even in the top 15.
Love Sports news?
Stay updated with the latest happenings.
Yes, notify me
Del Piero: The Mr. Dependable of Juventus
Goal-scoring and making regular appearances for the side are two different elements in the sport for a player. However, if a player is consistent in both, it's a miracle. The record for most appearances for Juventus also lies with Del Piero (705 appearances).
Giovanni Trapattoni: Turin's greatest manager
No club can be successful on its own, and there is always a man in the form of the manager, who plays a crucial role in the club's success.
For Juventus, that man has been Giovanni Trapattoni, who sealed a total of 14 trophies at the club, on two separate tenures.
It includes a record six Serie A titles and the Champions League.
A look at some other Juventus records
Biggest win: 15-0 vs Cento (1927 Coppa Italia)
Youngest player: Pietro Pastore (15 years, 222 days)
Oldest player: Dino Zoff (41 years, 86 days)
Most points earned in a season: 102 in 38 games (2013-14)
Most goals in a single season: 103 in 38 games (1950-51 Serie A)
Most clean sheets in a single season: 311 by Gianluigi Buffon (2001-2018)
When was Juventus formed?
Asked 2019-08-10 17:43:25 by Anonymous
Answered by NewsBytes
Juventus was formed in 1897.
When did Juventus win the first Serie A title?
Asked 2019-08-10 17:43:25 by Anonymous
Answered by NewsBytes
Juventus's first Serie A title win came in 1905.
When did Juventus last win the UCL?
Asked 2019-08-10 17:43:25 by Anonymous
Answered by NewsBytes
Juventus last won the UCL in 1995-96.
How many goals has Cristiano Ronaldo scored at Juventus?
Asked 2019-08-10 17:43:25 by Anonymous
Answered by NewsBytes
Ronaldo has so far scored 28 goals in 43 matches at the club.