Sports
Olympic rower Dattu still awaits promised reward from the government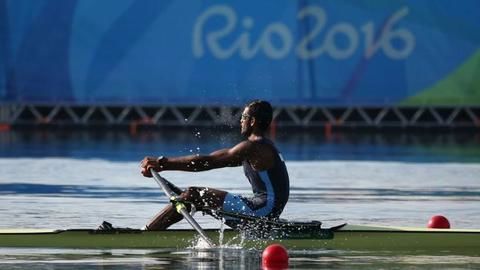 Olympic sculler Dattu Baban Bhokanal, who finished 13th in the men's singles sculls at the Rio Olympics is still waiting for the monetary assistance promised to him by the Government of Maharashtra before the quadrennial extravaganza.
In a recent interview, he said, "There's no help from the government. Even the post-Olympic package they were supposed to sanction hasn't been declared."
In context:
Life of rower Dattu Bhokanal
About

Dattu Baban Bhokanal
Dattu Bhokanal is an Indian rower from Maharashtra.
An Indian Army jawan, he started to row while in Pune in 2012 and won two gold medals at the National Rowing Championships in 2014.
Along with Om Prakash, he was placed fifth in the men's double sculling competition at the 2014 Asian Games.
Dattu trains at the Army Rowing Node in Pune.
Details

Dattu's performance at the 2016 Rio Olympics
Dattu Bhokanal qualified for the 2016 Rio Olympics after he won a silver medal in men's singles sculls at the 2016 FISA Asian and Oceania Olympic Qualification Regatta at Chung-ju in South Korea.
He finished the Rio Olympics at the 13th position clocking a time of 6:54.96 minutes.
He was the ninth Indian rower ever to represent the country at the Olympics.
Love Sports news?


Stay updated with the latest happenings.
Dattu finds himself in Forbes India's '30 under-30' list

Rower Dattu Bhokanal was included in Forbes India's annual 30 Under-30 list. The 25-year old, who overcame his fear and personal tragedy to finish 13th at the 2016 Olympics, was added to the list along with golfer Aditi Ashok and para-athlete T Mariyappan.
08 Feb 2017

Olympic rower Dattu still awaits promised reward from the government
Details

Have stopped talking to the officials: Dattu
Having lost his father in 2011 and mother in December 2016, Dattu says that he stopped talking to the officials connected with his sanctioning of cash reward.
He added, "Knowing that the Indian Army has my back is encouraging. All I keep thinking is how to better my Olympic performance. I want to win laurels for my country, that was always the dream."