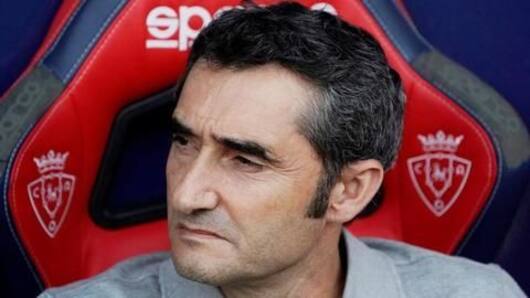 Here's what Ernesto Valverde felt about Barcelona post Osasuna draw
Defending champions Barcelona are not off to a great start to the 2019-20 campaign of La Liga, having managed just a win from the opening three matches.
Moreover, the unavailability of their superstar forward Lionel Messi has made things worse for them.
As they succumbed to their second consecutive draw of the season, here's what coach Ernesto Valverde had to say about it.
'We did not play well at all, we were awful'
Valverde slammed Barcelona's gameplay as 'awful', following their 2-2 draw against Osasuna.
While he credited Barca's resilience in the second half, he slammed the penalty awarded to Osasuna.
"We cannot afford to let a game like this one slip, we should have been more assertive on the pitch and kept on attacking," said Valverde.
Gerard Pique slams penalty decision as unfair one
"For me, that's not a penalty, I had no time to remove my arm, I was not taking up more space than usual, I jumped in a natural way," said Barca defender Gerard Pique.
Love Sports news?
Stay updated with the latest happenings.
Yes, notify me
Despite poor start, Pique feels no reason to panic
Despite Barcelona's unhealthy start to the season, Gerard Pique feels there's nothing to panic as of now.
He asserted the fact the Barca are facing more problems than expected, but nothing that serious.
"It's going to be a very long season and the important thing is that when we get to March or April, we have a chance of winning the league," claimed Pique.
How did the match pan out?
The match saw an upsetting start by Barca when they went behind after Roberto Torres scored for the hosts in the seventh minute.
It was in the second half when the visitors struck back with twin strikes from Anssumane Fati (51) and Arthur (64).
However, it was Pique's unfortunate handball that resulted in Torres scoring a brace as both the teams shared the honors.
Barca face tough Valencia test at home
As Barca get a couple of weeks to regroup during the international break, they would look to sort out the existing difficulties in the side, as they prepare to take on Valencia at home on September 14.
Also, they would be desperately hoping for Messi to be back in action, who is still recovering from his calf injury.
When did Ernesto Valverde join Barcelona?
Asked 2019-09-01 18:40:32 by Chirag Powar
Answered by NewsBytes
Valverde joined Barcelona in 2017.
Where are Barca currently ranked in La Liga?
Asked 2019-09-01 18:40:32 by Dhruv Nair
Answered by NewsBytes
Barca are currently ranked seventh in La Liga.
How old is Gerard Pique?
Asked 2019-09-01 18:40:32 by Hansika Rao
Answered by NewsBytes
Pique is 32-year-old.
Since when has Pique been playing for Barca?
Asked 2019-09-01 18:40:32 by Vishal Powar
Answered by NewsBytes
Pique has been playing for Barca since 2008.