Cristiano Ronaldo breaks goal record in Euro Qualifiers: Details here
Sports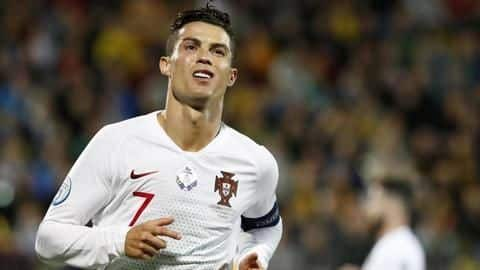 Cristiano Ronaldo has been in the form of his life of late, especially in the international circuit, as he scored four goals for Portugal against Lithuania in the UEFA Euro Qualifiers on Tuesday.
In the process, he also broke the record of scoring the most goals in the qualifiers, as he also strengthened his spot as the highest European goal-scorer of all-time.
Data
Ronaldo edges past Robbie Keane in Euro Qualifiers
As for the record is concerned, Ronaldo has now gone past Republic of Ireland's Robbie Keane, who had previously scored 23 goals in Euro Qualifiers. Ronaldo has scored 24. During the match, he also scored his eighth international hat-trick for Portugal.
Delighted Ronnie
Ronaldo expresses his delight as he is enjoying the moment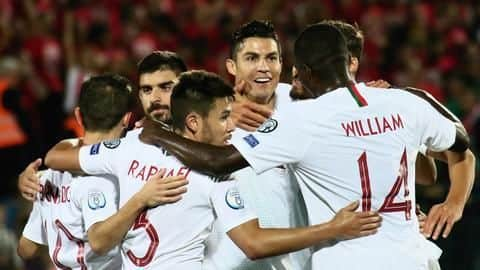 Following the record-breaking spree, Ronaldo expressed his delight and said that he was enjoying the moment.
He also expressed his happiness at the way his team has been performing, and the level of football the side has displayed in recent years.
"The team was doing very well too. It is up to me to continue helping the national team," asserted Ronaldo.
Quote
It was important to continue with a triumph: Ronaldo
"The hardest thing was winning in Serbia, and it was important to continue with a triumph here. We are closer, we have two games - one at home and one away - and I think if we win one of those, it's enough," added Ronaldo.
Match report
How did the match pan out?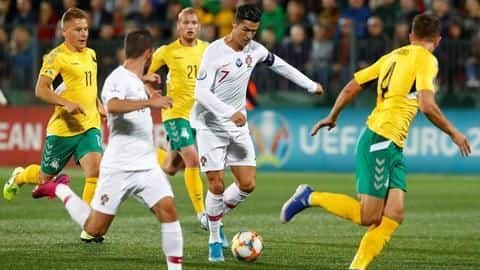 The match saw Portugal off to an attacking start, as Ronaldo netted the opener in the seventh minute, only to be equalized by Vytautas Andriuskevicius in the 28th.
Nonetheless, following the half-time, Ronaldo unleashed the terror, scoring three consecutive goals in the 61st, 65th and 67th minute, before William Carvalho scored the winner in the 90th minute, as Portugal won 5-1.
What's next?
Portugal need one win in four qualifying games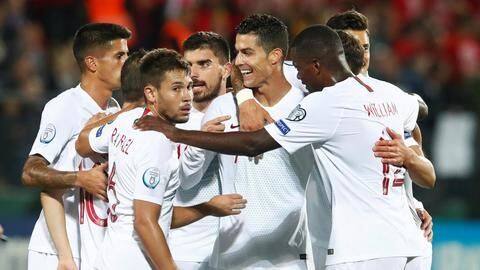 As Ronaldo says, Portugal are more or less through to the Euro next year. However, they would still need a win, at least, to make it through.
They have four more games to go, as they would take on Luxembourg on October 11 at home, followed by a trip to Ukraine on October 14.
Their campaign ends with two more games in November 2019.

Arjun Venkatesan
Asked on 11 September, 2019
How old is Cristiano Ronaldo?

Answered by
NewsBytes
Ronaldo is 34-year-old.
Ishan Powar
Asked on 11 September, 2019
How many matches has Ronaldo played for Portugal>

Answered by
NewsBytes
Ronaldo has played 160 matches for Portugal to date.
Hansika Sengupta
Asked on 11 September, 2019
Where was Ronaldo born?

Answered by
NewsBytes
Ronaldo was born in Funchal, Madeira, Portugal.
Ananya Vyas
Asked on 11 September, 2019
Which was Ronaldo's first-ever club?

Answered by
NewsBytes
Ronaldo started his club career with Andorinha.