Sports
Champions League: PSG thrash Barcelona 4-0 in knockout stage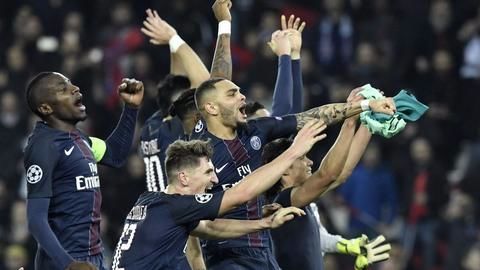 France's Paris Saint-Germain crushed Spanish club Barcelona FC 4-0 in the first match of the 'Round of 16' in the knockout stages of the Champions League in Paris.
Two goals each in both the halves gave an edge to PSG against Barcelona in the first leg of the stage.
Angel Di Maria(18'), Julian Draxler(40'), Angel Di Maria(55') and Edinson Cavani(71') scored a goal each.
In context:
Champions League - 'Round of 16' Updates!
Details

Champions League reaches knock-out stage
After six weeks of group stage matches, the 2016-17 Champions League reached the next round with 16 teams into the knockout stage.
The 'Round of 16' stage will be played in two legs from 15 February to 16 March, after which the tournament will reach the quarter-finals stage.
The semi-finals will be played in May, while the finals are scheduled for 4 June 2017.
Draws

Which 16 teams reached the knockout stage?
Defending champions Real Madrid and runners-up Atletico Madrid will face Napoli and Bayer Leverkusen respectively.
Manchester City will play Monaco FC whereas Spanish giant Barcelona will be up against France's Paris Saint-Germain.
Germany's Bayern Munich would face London based Arsenal FC; while Sevilla will play against Leicester City.
In other matches, Porto faces Italian club Juventus FC and Benfica will meet Borussia Dortmund.
Love Sports news?


Stay updated with the latest happenings.
15 Feb 2017

Champions League: PSG thrash Barcelona 4-0 in knockout stage
15 Feb 2017

Kostas Mitroglou scores; Benfica defeats Dortmund 1-0
Kostas Mitroglou's 13th goal in his last 13 games helped Benfica win the Champions League last 16-tie against Borussia Dortmund 1-0 at Lisbon.
Mitroglou scored the only goal of the match in the 48th minute for Benfica with captain Luisao's help, who was playing in his 500th match for the team.
They would now met again on 9 March for the second match.
Tonight's schedule

In the next matches of the first leg of knockout stage, Real Madrid will meet Napoli whereas Bayern Munich will face Arsenal tonight. The remaining first leg matches will be played next week.
16 Feb 2017

Champion's League: Bayern Munich hammer Arsenal 5-1
In their first leg of Champions League round of 16, Bayern Munich obliterated Arsenal to clinch a 5-1 victory at home in Allianz Arena.
While first half was evenly poised 1-1 with a Sanchez equalizer for Robben's opener, the hosts went on to score 4 goals (Lewandowski-53', Thiago Alcantra-56',63', Muller-88') in the second half.
Gunners will now host Bayern in the second leg.
Love Sports news?


Stay updated with the latest happenings.
Real Madrid fight back to beat Napoli

At Santiago Bernabeu, Real Madrid bounced back from 0-1, to beat Napoli 3-1. Benzema headed home the equalizer, and Toni Kroos, Casemiro fired from outside the box to add to the scoreline.