Sports
Pune man Kaustubh Radkar finishes 34th in Ultraman race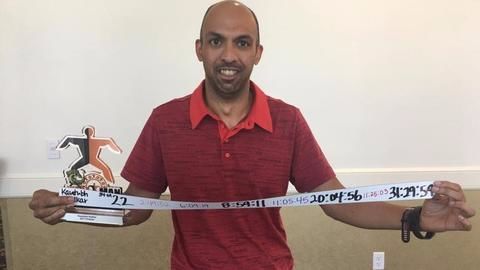 Pune's Kaustubh Radkar was the fastest Indian to finish the 515 kilometres Ultraman World Championship race in Florida as he finished the race at 34th place.
He clocked a time of 31 hours, 29 minutes and 59 seconds in the three day long event.
Kaustubh is a certified Ironman coach and has finished all the Ironman races in all the six continents in 2015.
In context:
Kaustubh Radkar - The lesser known Indian Ironman
About

The Ultraman Endurance challenge
The Ultraman World Championship is a three-day multi-sport race held annually in Hawaii Island in the United States of America.
The 515-km race is divided into three parts; a 10 km open water swimming and a 148-kilometre bike ride on the first day, 276-kilometre bike ride on second day, and a 84-km double marathon on third day.
Each stage must be finished within 12-hours.
21 Feb 2017

Pune man Kaustubh Radkar finishes 34th in Ultraman race
Love Sports news?


Stay updated with the latest happenings.
Kaustubh faster than Milind Soman

Kaustubh finished the race three hours 15 minutes ahead of model-actor Milind Soman. They were accompanied by three other Indians; Prithviraj Patil (31 hours and 34 seconds), Manmad Rebba (31 hours and 42 minutes) and Abhishek (34 hours and 51 minutes).
About

Who is Kaustubh Radkar?
A coach by profession, Kaustubh Radkar himself is an elite athlete.
He is a former national swimming champion and has represented India in several Asia-Pacific Swimming Championships.
Kaustubh participated in his first Ironman race in 2008, when he finished the race in 11 hours 41 minutes and 36 seconds, the fastest debut for an Indian.
Since then, he has finished all the Ironman races.
First and only Indian to finish Ironman in all continents

Kaustubh Radkar has successfully finished the Ironman Triathlon race in all the six continents. He is the first and the only Indian to do so and has won more than 12 Ironman titles.